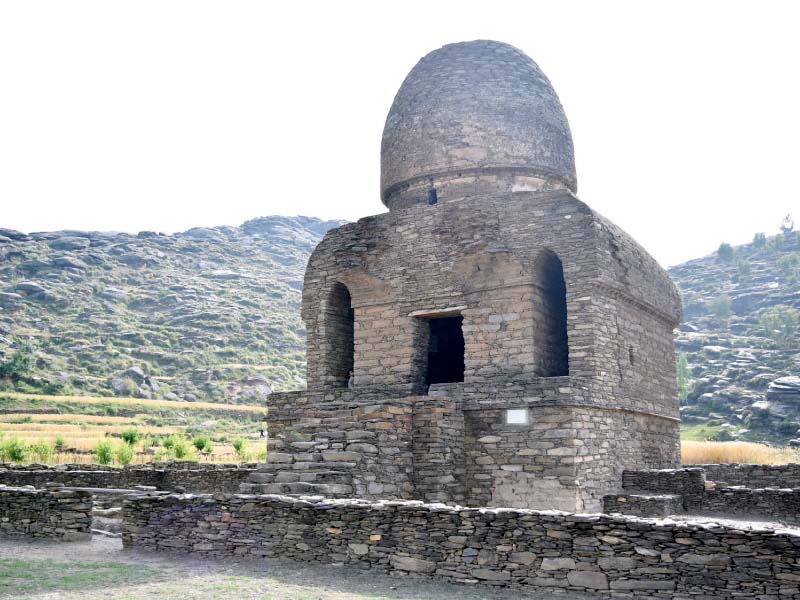 ---
SWAT: An ancient double-domed structure still stands tall near Mingora after having survived the cruel ravages of time, vandalism and official neglect.

The 1,800-year-old Vihara or early Buddhist monastery, was discovered by British archaeologist Sir Aurel Stein. It had been constructed in the second century as a place of worship by Buddhists, when Buddhism was the dominant religion of Swat.

The main building has two domes, one right above the other which led to it being called the double-dome-structure.

Archaeologists have called the structure one of the 'finest and most unique ancient buildings' across Asia.

Though the structure remained unscathed during the period of militancy in Swat, its surrounding areas faced a lot of damage.

Katas Raj Temples: last vestige of Hindu era

The double-dome-structure did not lose its importance even during the Hindu-Shahi period, marking an end to Buddhism in Swat.  The structure then became the centre for Hindus where they would offer their rituals.

The locals in Swat called the structure 'Vihara' — a term the Buddhists pioneered and used for their monastery.

A resident of the village Arshad Ali said that besides the double-dome structure, many other similar buildings were made in the complex. But neglect has ruined them all.

"There were homes occupied by Buddhist followers and several other stupas erected for worship around the double-dome-structure," Ali said adding that now, those other buildings had demolished over time and only the double-dome-structure was left alone.

The structure, he claimed, was built keeping in view the weather of Swat and also the fact that the area is earthquake prone.

Moen Jo Daro excavation: 'Site undergoing maintenance to attract archaeologists'

Tajdar Alam, another local resident of the Balo village, told The Express Tribune that prior to the militancy in 2007, Buddhists, especially from South-east Asia, would visit the site and offer their respects.

He added that though peace was restored in the area, only local visitors came to the site.

"Concrete measures are needed to attract Buddhist followers and international tourists to the site in Swat," he added.

The ancient Vihara is now a protected site and maintained by the government's  archaeology department, which was restored and rehabilitated by the Italian Archaeological Mission in Swat, active since 1956 in the area and has taken plenty of steps so far for the protection and research of the Swat archaeology.

Published in The Express Tribune, January 21st, 2017.
COMMENTS
Comments are moderated and generally will be posted if they are on-topic and not abusive.
For more information, please see our Comments FAQ