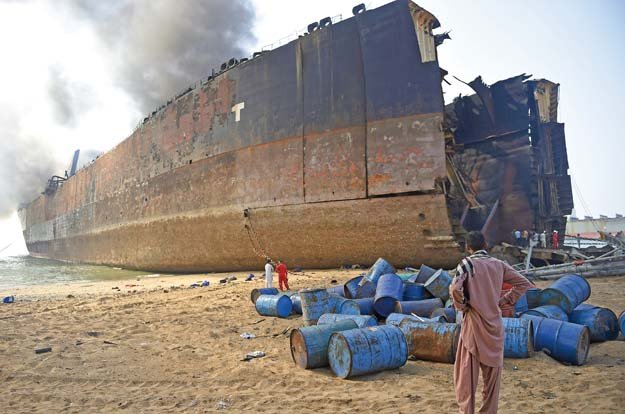 ---
ISLAMABAD: Members of the National Assembly's Standing Committee on Human Rights expressed their annoyance after officials of Balochistan's Labour and Manpower Department failed to satisfy lawmakers over the massive loss of life as a result of a fire in Gadani shipbreaking yard in November last year.

They warned the officials concerned not to repeat this trend next time.

Furthermore, the committee ordered all departments concerned, including the ministry of ports and shipping, and the government of Pakistan to attend the next meeting at any cost.

The panel is scheduled to take up all issues relating to the Gaddani incident.

The 19th meeting of the standing committee was presided over by MNA Babar Nawaz Khan.

After unanimously confirming minutes of its previous meeting on January 1 this year, the committee started discussing the Gadani fire incident.

Although the matter was taken up by the committee, officials of all departments invited to the meeting could not attend the meeting because of bad weather. Only officials of the provincial labour and manpower department attended the meeting.

At least 28 workers lost their lives after a fire broke out in a decommissioned oil tanker anchored at the Gadani shipbreaking yard in November last year. As many as 42 workers were reported injured in the incident.

Although a large number of workers were reported missing after the incident, officials are still in the dark about the exact number of casualties in the incident.

Incidentally, the representatives of Balochistan's labour and manpower department failed to provide satisfactory answers to the questions posed by committee members.

MNAs Sahibzada Muhammad Yaqub, Sayed Essa Nori, Begum Tahira Bukhari, Farhana Qamar, Surriya Asghar, Kiran Haider, Asiya Naz Tanoli, Dr Shazia Sobia, Munaza Hassan, Sajid Nawaz, Kishwer Zehra, Aliya Kamran Murtaza and Naseema Hafeez Panezai and officers of the ministry of human rights attended the meeting.

Published in The Express Tribune, January 17th, 2017.