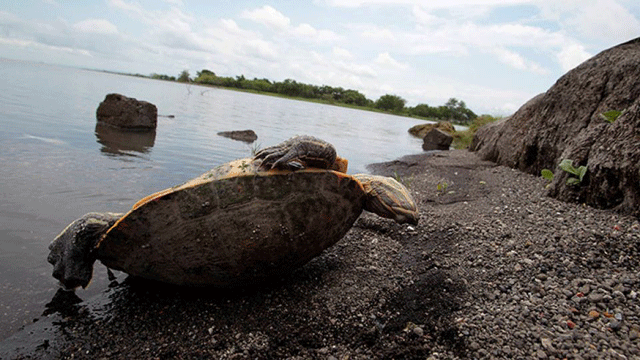 ---
KARACHI: More than 100 endangered green turtles were seen crawling along the Sandspit Beach, which is among the 11 beaches of the world where marine turtles come to lay eggs.

According to marine experts it's a routine practice and these turtles eventually would have come out of their pits.

Rare leatherback turtle swims back into the sea 

Judging by the pictures released by IUCN [International Union for Conservation of Nature], it could be gauged that turtles are returning to the sea after laying eggs in pits, said World Wide Fund for Nature (WWF) Pakistan technical director Muhammad Mozzam Khan.

"Currently, the hatching season is going on," he said, adding that the female turtles mostly come to shore at night to lay eggs, they then cover the pit and return to the sea. The hatching process takes around 40 to 45 days.

Illegal trade: 700 turtles recovered from DHA  

The wildlife and marine experts explained that Sandspit Beach, which is spread over around seven kilometers, is home to marine turtles where around 2,500 to 3,000 female turtles come to lay eggs from August to mid-February.

170 turtles found inside wheat bags

"Each female turtle makes a pit and lays around 100 eggs," said WWF-Pakistan, Karachi, spokesperson Masood Sandeelo. There is a serious threat to their eggs and hatchlings from stray dogs and wildlife traffickers, who steal them and sell them in market.

Speaking about the rain situation, he clarified that the sighting of turtles on the beach has nothing to do with the rain and it is a routine practice during this time of the year.

Published in The Express Tribune, January 15th, 2017.