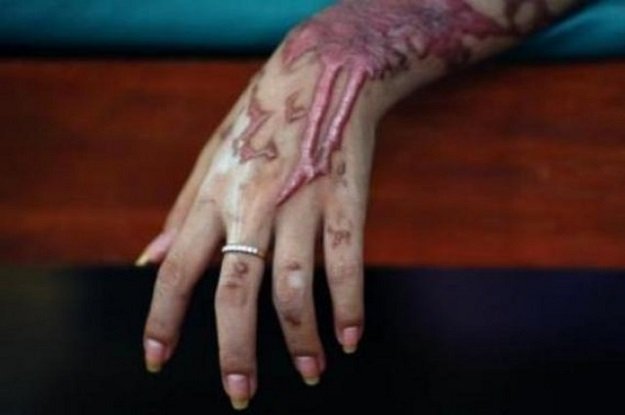 ---
ISLAMABAD: The National Assembly's Sub-Committee of the Standing Committee on Interior and Narcotics Control adopted the Acid and Burn Crime Bill 2014 on Friday.

Minister of State and BISP Chairperson MNA Marvi Memon said this bill, meant for the Islamabad Capital Territory (ICT), would soon be placed before parliament for approval.

British-Pakistani man left with horrific burns after acid attack in London

Once passed, she said, the bill would serve as a model for other provinces.

The proposed law strengthens the court's ability to convict criminals, support victims, besides offering a comprehensive investigation mechanism of not more than 60 days. It also enables the authorities concerned to take punitive action against investigating officers in cases of negligence. According to the bill, if anyone is killed in an acid or burn attack, the perpetrator shall be punished in accordance with the provisions of the existing law.

"Currently, it is almost impossible for an acid burn victim to get medical treatment as it is too expensive … Often most victims leave treatment incomplete because they cannot bear the medical expenses," she said.

"There is also an acute shortage of burn centres in the country," she said.

The bill offers free medical treatment and rehabilitation for acid burn victims. The bill legally binds medical practitioners to inform law enforcement agencies and take photographic evidence of injuries in acid attacks. It also provides interim monetary relief to victims for expenses and losses incurred, besides penalising abettors. The bill also outlines a process for conducting trials of accused in the shortest possible time. It also ensures protection for witnesses, provision of legal aid and financial support for victims and their dependents.

Woman attacks man with acid for refusing her marriage proposal

The Acid and Burn Crime Bill of 2014 was moved by MNA Marvi Memon for strengthening the Criminal Law Amendment Act, 2011.

The bill provides for setting up an implementation monitoring board. It will be followed by a complementary law for controlling the acid sale.

The Criminal Law Amendment Act of 2011 was the successor of the Acid Control and Acid Crime Prevention Bill of 2010, which made acid and burn violence a crime against the state, making it a non-compoundable and non-bailable offence, for the first time in the history of the country.

After the enactment of the Criminal Law Amendment Act of 2011, the conviction rate tripled in 2012, touching 18 per cent but victims of acid violence still faced tremendous difficulties in getting a complaint registered under the right section of the PPC.

The prosecution rate was 35 percent, which meant that justice was not provided in 65 percent of the cases because of weak prosecution.

According to the Acid Survivor Foundation (ASF), the total number of reported acid attack cases was 69 in 2015 against 153 in 2014 and 109 in 2013.

Published in The Express Tribune, January 14th, 2017.