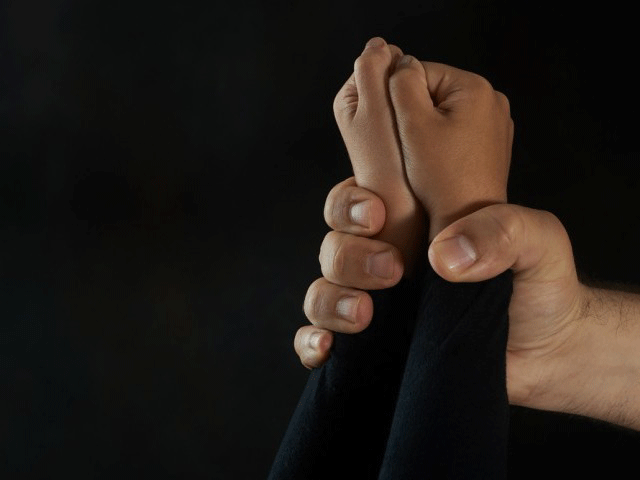 ---
FAISALABAD: Scores of people held a protest demonstration against the police over its failure to arrest an accused involved in kidnapping and raping a 9th grade student in Faisalabad on Thursday. The incident took place on November 22, 2016.

The protesters gathered at Zila Council Chowk and shouted slogans against the officials of Saddar police station. They blamed the police for patronizing the culprits and imposing pressure on the family of the victim to reach a compromise deal.

The protesters also staged a sit-in and burnt tyers, blocking the road for vehicular traffic for hours. They marched through different thoroughfares and demanded immediate recovery of the victim.

Meanwhile, the area DSP and other officials held negotiations with the protesters and assured them that action would be taken against those involved in the incident.

Family's narrative

While speaking to media persons, victim's father Ghumal Ali his 14 –year-old daughter was allegedly abducted by accused Sajjad and his accomplices while she was coming on her way home from school.

He said the culprits gang-raped his daughter in a Madrassah situated on Samundari Road. Later, he revealed his daughter was sold to a hotel owner where she was again subjected to sexual assault by a number of persons.

"I registered a case against the accused vide FIR No 1310/16 in Saddar Police Station, however, the police is reluctant to arrest the accused and his accomplices," Ghulam Ali said.

He maintained, "I have approached the Saddar police station SHO a number of times but the police refused to take action and we are left with no option but to protest on streets." On the occasion, Nasreen, mother of the victim, said "We are running from pillar to post to find daughter but to no avail." She threatened to commit suicide if the the authorities failed to arrest the accused.

She alleged Sajjad was also involved in forcibly abducting children in the area and then selling them to pimps.

Published in The Express Tribune, January 13th, 2017.
COMMENTS
Comments are moderated and generally will be posted if they are on-topic and not abusive.
For more information, please see our Comments FAQ