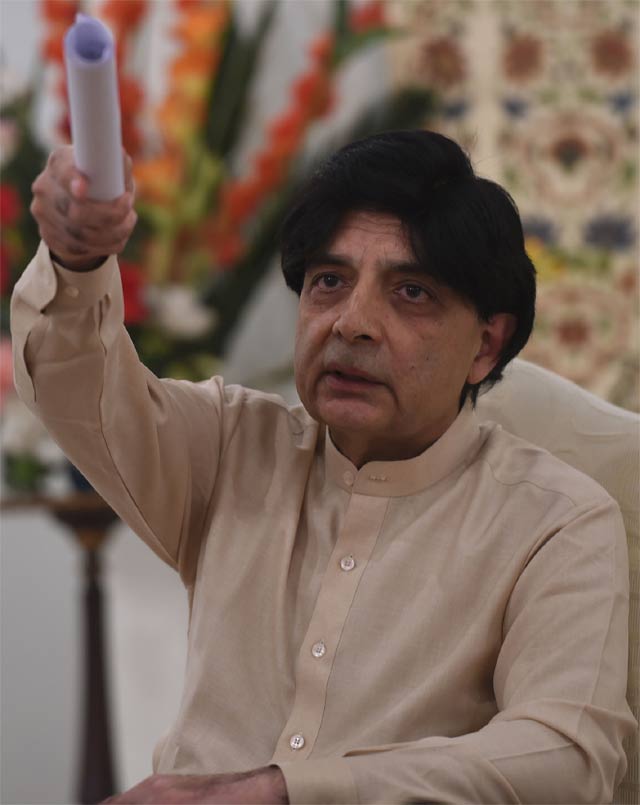 ---
Interior Minister Chaudhry Nisar Ali Khan has said that the government will make all-out efforts to recover the four social activists who went missing from different cities last week.

"Safe recovery of the missing social activists is a priority of the government," Nisar said Tuesday while briefing lawmakers in Senate on missing activists Salman Haider, a poet and academic, and bloggers Waqas Goraya, Asim Saeed and Ahmad Raza Nasir.

"The government neither pursues the policy of getting its own citizens disappeared nor will tolerate this," Radio Pakistan quoted the minister as saying.

The interior minister informed the Upper House of Parliament that Salman went missing from Islamabad Capital Territory (ICT) while others were picked up by unidentified men from Punjab. "The Government of Punjab is also pursuing this matter on priority basis," he said.

Claiming that the country's agencies were monitoring the issue, the minister vowed to bring the investigation to its logical conclusion. "A number of people have been recovered in the last three and a half years due to government's sincere efforts," he said.

HRW urges Pakistan to investigate bloggers 'abduction'

Nisar's statement coincides with protests being held by liberal activists in major cities, using the hashtag #RecoverAllActivists to generate support on social media.

The four activists had gone missing from various cities between January 4 and 7. Pakistan is routinely ranked among the world's most dangerous countries for journalists, and reporting critical of security policies is considered a major red flag, with reporters at times detained, beaten and even killed.

Rights groups say Pakistani activists and journalists find themselves routinely caught between the country's security establishment and militant groups, including the Taliban.

In April 2015, prominent activist Sabeen Mahmud was killed by militants who said they carried out the attack because she promoted liberal, secular views.