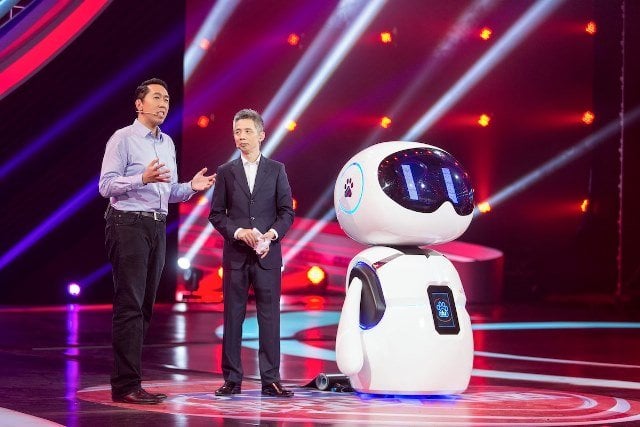 ---
A robot is invading a popular reality TV show in China that tests people's brainpower. The smart, AI-powered bot, Xiaodu, will take on human competitors in complex trials involving face and voice recognition.

Super Brain, the Chinese version of The Brain franchise, will dedicate the whole of season four, starting tonight, to the theme of supercomputers versus humans. The AI robot built by search engine giant Baidu is one of the contestants, facing off against four people and other clever computer programs.

It's possible that the season finale in April will be AI versus AI.

Artificial intelligence: Solution-oriented robots strut their stuff

Baidu first showed off a small version of Xiaodu in 2015. After working on the AI in the interim – and building a giant version just for TV – the gadget now faces its biggest ever battle.

AI throws down the gauntlet




PHOTO: BAIDU

One of the AI's human opponents is Sun Yiting, an eight-year-old boy with amazing hearing ability. He claims he can accurately tell the height from which a balloon was dropped by listening to the sound of the balloon landing. Another, Wang Feng, is a memory master who broke the world record for speed memorization of cards in a poker game.

The first facial recognition round in tonight's Super Brain will involve the humans and Xiaodu being shown numerous photos of two women when they were babies to four years old. They must then pick out the right two individuals from a lineup of 20 women who are dressed similarly and have similar haircuts. The speech recognition round is equally complex, with contestants tasked to match three people talking in a three-second audio clip to 21 people brought onstage as they all sing in chorus.

Baidu is confident its AI bot has the savvy to do well in its tough TV test. The Beijing-based company, worth US$63 billion, has a lab in Silicon Valley devoted to artificial intelligence, natural language processing, intelligent interaction, as well as speech, image, and facial recognition.

Andrew Ng, chief scientist at Baidu Research in Silicon Valley, will also pop up on the show alongside the robot. In March 2016, Google's AlphaGo AI scored a spectacular victory against professional Go player Lee Sedol, mastering the ancient board game that's so much more complex than chess.




"Globally, there are many robot-versus-human contests, most of which focus on chess games and quizzes," said Baidu in a statement today. So the TV task is a very different one for its AI. "However, facial and voice recognition is a huge challenge for robots while humans have an advantage. To achieve greater accuracy, robots require a great deal of training with huge amounts of data. Some training even includes identifying people from old, unclear pictures. Humans, through millions of years of evolutionary history, have developed the ability or instinct to instantly recognize and memorize human faces and voices."

Virtual butler 'Jarvis' takes up residence in Facebook founder's home




"Robots don't have instinct or evolutionary history, so they can only rely on data analysis," added the firm. "That's why it is very difficult for even the most advanced AI technology in the world."

This article originally appeared on Tech in Asia.
COMMENTS
Comments are moderated and generally will be posted if they are on-topic and not abusive.
For more information, please see our Comments FAQ