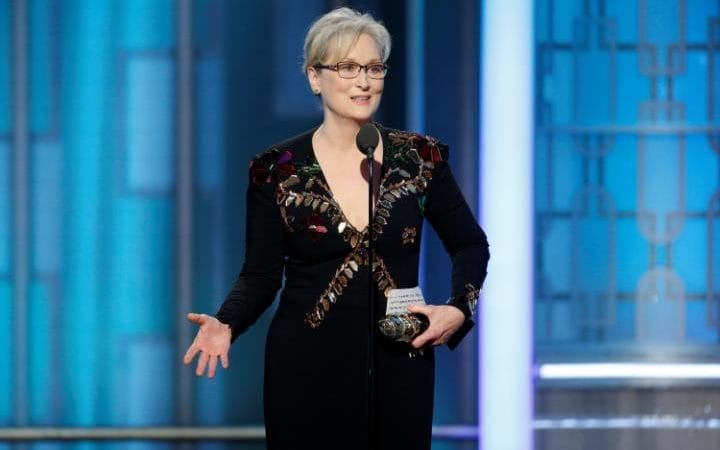 ---
Actress Meryl Streep turned a Golden Globe acceptance speech into a scathing attack on US President-elect Donald Trump, saying she had been heartbroken by his imitation of a disabled reporter during his campaign.

"There was one performance this year that stunned me," Streep, 67, said as she was honored with the Cecil B. DeMille lifetime achievement award Sunday night.

US teacher 'urged people to vote for Donald Trump so Muslims could be butchered' 

"It sank its hooks in my heart. Not because it was good. It was that moment when the person asking to sit in the most respected seat in our country imitated a disabled reporter."

The three-time Oscar winner was referring to a 2015 incident at a South Carolina rally when Trump flailed his arms and slurred in his speech in an apparent mocking of New York Times reporter Serge Kovaleski, who has a physical disability. Trump later denied that he was imitating the reporter.

"It kind of broke my heart when I saw it and I still can't get it out of my head because it wasn't in a movie. It was real life," Streep said.

"This instinct to humiliate when it's modeled by someone in the public platform by someone powerful it filters down into everybody's life. Disrespect invites disrespect. Violence incites violence."

While Streep did not name Trump directly, she used almost the entire speech to criticise his behavior and policies, while calling for Hollywood to stand strong against any attacks and to support a free press through organisations such as the Committee to Protect Journalists.

The audience sat in stunned silence for much of it.

Trump Fish: Iraqi restaurant spells out Kurdish faith in president-elect

Streep earned a cheer from the crowd when she said that, "Hollywood is crawling with outsiders and foreigners."

"If you kick them all out, you'll have nothing to watch but football and mixed martial arts, which are not art," she said, as the audience cheered on.

Trump, who takes office on Jan. 20, made a tough stance on immigration a cornerstone of his campaign. Hollywood's actors and studio executives were mostly behind his Democratic rival Hillary Clinton.

Streep ended her speech with a nod to her long-time friend, "Star Wars" actress Carrie Fisher, who died last month after a heart attack.

"As my friend, the dear departed Princess Leia, said to me once, 'Take your broken heart and make it into art'," Streep said, her voice cracking with emotion.

US Gulf allies look to Trump with hope and fears

The Committee to Protect Journalists tweeted to the actress, "Thank you Meryl Streep for your generosity & support of our mission to protect journalists and press freedom around the world."


"When the powerful use their position to bully others, we all lose" thank you #MerylStreep #GoldenGlobes

— Julianne Moore (@_juliannemoore) January 9, 2017
There has never been anyone like Meryl Streep. I love her. #GoldenGlobes

— Ellen DeGeneres (@TheEllenShow) January 9, 2017
Meryl Streep. It's this same level of bravery that she has offered us, freely, again and again. #GoldenGlobes #MerylStreep

— Uzo Aduba (@UzoAduba) January 9, 2017
Meryl Streep. It's this same level of bravery that she has offered us, freely, again and again. #GoldenGlobes #MerylStreep

— Uzo Aduba (@UzoAduba) January 9, 2017


https://twitter.com/seanhannity/status/818297924161601537


This Meryl Streep speech is why Trump won. And if people in Hollywood don't start recognizing why and how - you will help him get re-elected

— Meghan McCain (@MeghanMcCain) January 9, 2017


Streep has been nominated for a Golden Globe 30 times and won eight times. She joins Denzel Washington, George Clooney, Woody Allen and Jodie Foster as recipients of the Cecil B. DeMille award.

[brid video="104200" player="7247" title="Meryl Streep lambasts Trump in Golden Globes speech"]
COMMENTS (4)
Comments are moderated and generally will be posted if they are on-topic and not abusive.
For more information, please see our Comments FAQ