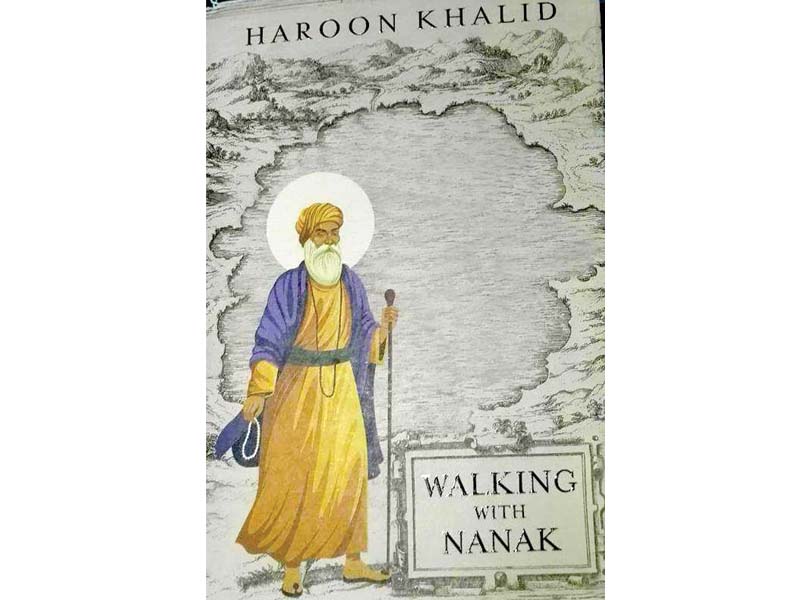 ---
LAHORE: The discovery that Guru Nanak spent most part of his life in Pakistan inspired author Haroon Khalid to travel across the country and write a book on Nanak as a poet and traveller.

Speaking at the launching ceremony of his book 'Walking with Nanak' held at The Last Word bookstore, Haroon spoke in detail about his conscious effort to discover Guru Nanak, not only as a religious or spiritual figure, but also as a poet and traveller.

Haroon Khalid's lifelong fascination with Guru Nanak was reignited when he came across Babur Bani - a poem written by the saint. Moreover the fact that Guru Nanak spent most of his life in Pakistan, inspired the author to travel across the country with a hope to learn more about the revered founder of Sikhism.

In his book 'Walking with Nanak,' Haroon described his travels across the length and breadth of Pakistan as he visited many Gurdwaras and other locales associated with the saint, delving into their history and musing about their place and significance in a Muslim country.

The author deliberately dropped the appellation 'Baba' or 'Guru' with Nanak, since his book is not merely a story about Gurdwaras but also a re-telling of the story of Nanak as a son, a poet, a wanderer, a father and a friend.

The book also explores the histories of all the subsequent Gurus after Nanak and describes how Nanak the poet became Guru Nanak the saint.

Haroon explained at the event that having been born and brought up in Pakistani Punjab, he had only heard of Guru Nanak as being the founder of Sikhism, a poet and a spiritual leader. However, after the absence of Sikh history in Pakistan's mainstream literature, the author said that he found himself short of avenues to explore the legacy of Nanak

In the introductory section of the book, Haroon writes that Guru Nanak was someone who was a Punjabi himself and yet an alien because he was a non-Muslim. The author told the audience that when he finally did manage to read about Nanak, he felt disappointed to see that his life and work was not that well recorded.

He explained that his discussions and meetings with Iqbal Qaiser helped him a lot in truly understanding Nanak. According to Haroon, reading Guru Nanak's poem 'Babur Bani' came as a true revelation to him about Nanak's ideology as a poet and not as a religious figure.

Babur Bani is a long poem that Nanak wrote in the backdrop of a Mughal emperor's attack on Punjab which destroyed the cities of Eminanbad and Lahore.

He writes that through his poem, Nanak dares to challenge the divinity of the divine and asks if the bloodshed was a blessing that God had promised.

The author travelled on Nanak's path through information collected from Janamsakhis - Sikh text on Nanak's life written by his devotees.

However, according to the author, Janamsakhis do not give us a clear picture of Nanak's life.

The author writes that within the fictional part of the book that attempts to narrate Nanak's story he has attempted to interweave the story of his own travels.

Published in The Express Tribune, January 9th, 2017.