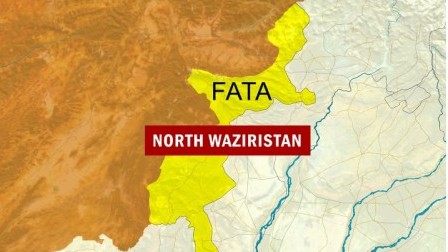 ---
QUETTA: Taliban militants shot and killed two persons on charges of spying for the US in North Waziristan tribal agency on Wednesday.

Officials said two bullet riddled bodies were dumped by militants in the Drapa Khel village near Miramshah, which is effectively under militant control. Officials added that a note was found with the bodies that said the two people were killed for spying for Americans and whoever will spy for America will meet the same fate.

One of the dead was identified as a local resident, while the other is said to be an Afghan national. Killings on charges of spying are common in the tribal belt and many people have been accused on charges of spying for Americans. Some analysts say that such people inevitably have to be US spies, while others disagree. "Brotherhood is very strong among Pakhtuns. It is impossible that the people killed are not spies because if anyone is wrongly killed, their relatives and neighbours will definitely take revenge," said security analyst and former ambassador to Afghanistan, Rustam Shah Mohmand.

"Such killings occur because of the fear US strikes. There are people who keep electronic chips in their clothes or throw them in other people's houses, to give the US officials information about the resident in the area, which can lead to consequential drone attacks," he said. However, Dr Atlafullah, Professor of Mass Communication and Journalism at the University of Peshawar, has a different view. "The decision to declare someone a spy is very subjective.

Anyone possessing anything that people in the area are not familiar with can be declared a spy and people can be easily led to believe it as the truth." There were times when a person was seen with suspicion if he was carrying a high-tech mobile phone, he added. The latest deaths come less than two weeks after militants killed Khalid Khawaja, a former officer of the Inter-Services Intelligence. A little known group Asian Tigers had claimed responsibility for the incident.- WITH ADDITIONAL REPORTING BY ZEHRA ABID

Published in the Express Tribune, May 13th, 2010.