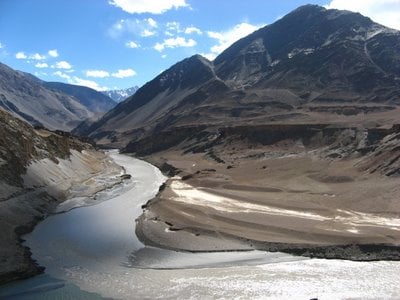 ---
Pakistan's former Indus water commissioner has claimed that the World Bank (WB) – the arbitrator between Islamabad and New Delhi over their ongoing water dispute – has relented to Indian pressure.

"In my view the World Bank has bowed to Indian pressure which in turn is stalling on the process of resolution by a Court of Arbitration (CoA)," Jamaat Ali Shah said in an interview with The Third Pole, a non-profit organisation. He said Pakistan had approached the World Bank to set up the arbitration court as a last resort only after it failed to resolve the issue bilaterally with its arch rival.

India recently revealed its intentions to block waters flowing into Pakistan. However, Islamabad took exception to the Indian designs, saying any such move would be taken as open aggression.

According to the ex-commissioner, the WB's request to restart bilateral negotiations at the level of the Indus Commission is going to be an exercise in futility. "To my mind, this dilly-dallying on the part of the Bank only reinforces the latter's intention to give impetus to Indian PM Narendra Modi's threat of scrapping the treaty," he said.

Shah went on to suggest that it was very alarming for Islamabad and there had been suspicion that India was pushing Pakistan for a Treaty II only on the western rivers, the waters of which were allocated to the latter in 1960. "That is why the Bank and the US are seen debating it and dictating Pakistan for an amicable resolution (revision in the treaty). Or at least India wants to get out of the restriction laid down on them in the IWT [Indus Waters Treaty] regarding western rivers, as India cannot liberally utilise these waters as per its will and demand," he said.

In response to a question about the kind of strategy Pakistan should adopt in face of the growing hostility from its eastern neighbour, the former commissioner said the disinterest in matters of the ministry of water and power had added to the damage.

"Pakistan first notified India for resolution of the questions (on Kishenganga and Ratle projects) by a NE (neutral expert) and then withdrew it, then approached the Bank for a CoA," he said, adding that it was an issue to be resolved by the NE being technical/design in nature.

According to Shah, processing the issue through CoA was not required. "But the question that comes to mind is to look deeper in the vested interest in the deadlock," he said.

Claiming that many people aim to benefit from the case being taken from one authority to another, Shah said the expenses incurred were Rs300 million of which Rs190 million have already been paid.

Published in The Express Tribune, January 7th, 2017.
COMMENTS
Comments are moderated and generally will be posted if they are on-topic and not abusive.
For more information, please see our Comments FAQ