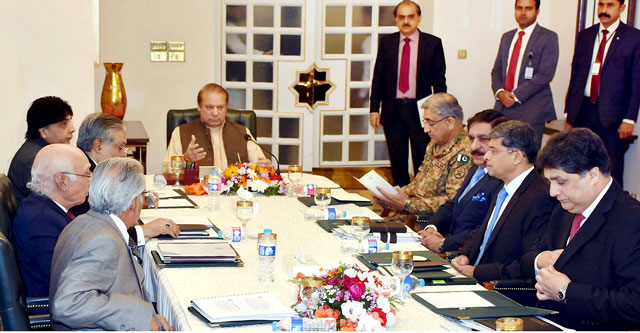 ---
ISLAMABAD: Prime Minister Nawaz Sharif said on Tuesday that peaceful coexistence and mutual respect are the main objectives of Pakistan's foreign policy.

"Peaceful coexistence, mutual respect and economically integrated region must be our shared objective and we must strive for realising this objective," he said.

The prime minister was chairing the meeting in Islamabad to review foreign policy with regard to current global and regional challenges Pakistan has been facing, where the participants also discussed the current status of relations with its neighbours and strategic partners.

"Pakistan believes in peaceful coexistence with all neighbouring countries and looks forward to establishing strong and mutually beneficial relations with them," PM Nawaz said.

Foreign policy report: Anti-corruption efforts paying off: CM  

He added that coexistence is only possible when "we demonstrate a commitment to our aspirations of peace, progress and prosperity".

The high-level huddle reviewed bilateral and multi-lateral relations with neighbouring countries, future road-map for regional stability and maintenance of mutually beneficial relations with all countries in the region and beyond, according to a PM House statement.

US Senator McCain acknowledges Pakistan's efforts in fight against terrorism

Chief of Army Staff General Qamar Javed Bajwa, DG ISI Lt-Gen Naveed Mukhtar and PM's Adviser on Foreign Affairs Sartaj Aziz were among others who attended the meeting.

Emphasising on the game-changer project of the multibillion-dollar China-Pakistan Economic Corridor (CPEC), the premier said that it is a cornerstone of the country's quest for regional connectivity and shared prosperity.