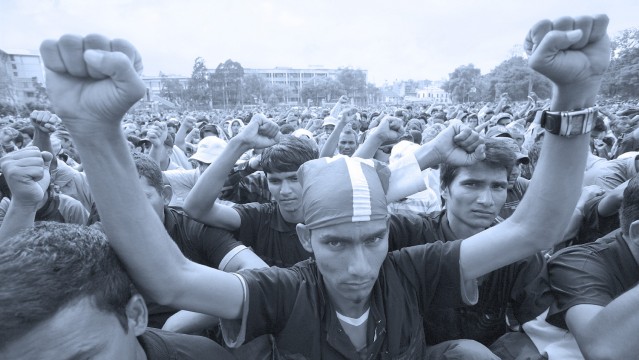 ---
KATHMANDU: Nepal will miss a deadline to prepare a new constitution, officials said on Wednesday, raising fears of fresh political tension in a country yet to fully emerge from years of a civil war that killed thousands.

Responding to the political situation, the UN Security Council agreed on Wednesday to a request from Kathmandu to keep its peace-monitoring mission in place there for four more months. Instability in Nepal could have regional implications. It is located between China and India and has abundant potential to generate hydroelectric power and supply water for millions of people, including in India.

A specially elected constituent assembly has until May 28 to complete the draft of the nascent Himalayan republic's first constitution, two years after it got rid of the monarchy. But assembly chairman Subas Nemwang said the panel, dominated by the Maoist former rebels, still had a long list of chores and could take at least four months to complete the task. "There are difficulties to meet the May 28 deadline. We don't have enough time to follow the procedures and rules," Nemwang told Reuters.

Prime Minister Madhav Kumar Nepal seeks to extend the deadline, saying "a situation has arisen under which the constitution cannot be made in time", his office said. And the leader's immediate concern is to ease a political stand-off with the Maoists, who demand his resignation to make way for them to head a unity government, a year after they quit. But the support of the Maoists, who control 40 percent of the seats in parliament, is a must for any change in the schedule.

The Maoists have said an extension of the deadline will be "meaningless" until the prime minister resigns. "This government is not keen in pursuing peace and on preparing a new constitution," Maoist chief Prachanda said at a meeting. Hardening position In a sign of a hardening position, a Maoist strike last week closed transports and businesses for six days to press for their demands. Analysts said missing the constitution deadline would erode the credibility of political parties, with people seeing them let their desire for power take precedent.

The parties are yet to agree whether to adopt a presidential or British-type parliamentary system, and how to create federal provinces and split resources between them. Maoists and mainstream political parties have so far also failed to agree on the fate of more than 19,000 former guerrillas confined to camps watched by international monitors. Their future is important to Nepal's stability. Weekly Nepali Times analyst Prashant Jha said if political parties failed to reach a consensus and extend the deadline Nepal would be in for a "serious political and constitutional crisis".

"There will be political confrontation which will probably turn violent," Jha said. In the last four years, political parties and the Maoists have together abolished the monarchy and turned the majority Hindu nation into a secular republic. The government had urged the United Nations last week to extend its peace mission, called UNMIN, an indication the peace process would take time to conclude amid rising political tension.

Published in the Express Tribune, May 13, 2010.