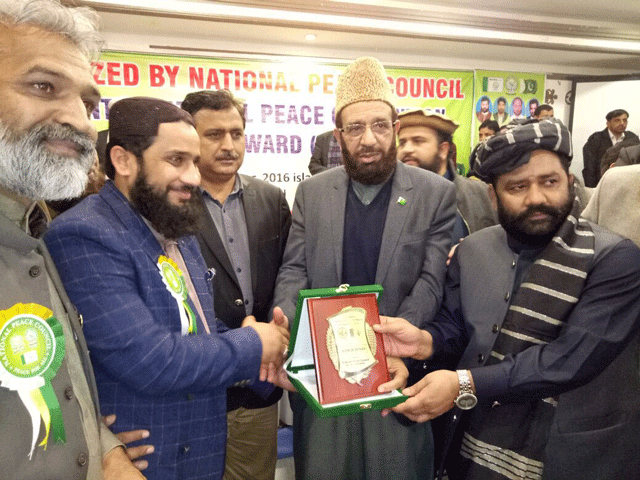 ---
The federal government has presented a 'peace award' to controversial religious cleric Masroor Nawaz Jhangvi.

Federal Minister for Religious Affairs Sardar Muhammad Yusuf conferred the 'peace award' to Jhangvi during a gathering of the National Peace Council in Islamabad.


Fed religious affair Minister Sardar Yousaf give peace shield to Masroor Jhangvi, newly elected MPA from Jhang, in a National Peace seminar pic.twitter.com/ISRo7UU01E

— Zia Ur Rehman (@zalmayzia) December 29, 2016


The development comes weeks after Jhangvi became member of the Punjab assembly after winning the PP-78 Jhang by-election. He defeated his Pakistan Muslim League-Nawaz (PML-N) rival candidate Haji Azad Nasir Ansari by a margin of close to 13,000 votes.

Masroor Nawaz Jhangvi confesses sectarianism in his past

Jhangvi's December election to the provincial assembly caused a stir in the country due to fears his political ascent would increase sectarian divides in the dusty town of Jhang with a history of violence between Shia and Sunni communities.

During a recent interview with Reuters, Jhangvi said he has become more moderate and distanced himself from his previous anti-Shia rhetoric after winning a seat in provincial assembly. "I consider everybody to be human, and I want peace in Jhang and in Punjab," Jhangvi said, when asked how he felt about Shias.

Jhangvi's assassinated father, Haq Nawaz Jhangvi, was a fierce anti-Shia cleric who founded a feared Sunni sectarian group, Sipah-e-Sahaba Pakistan. He was killed by suspected Shia militants in 1990. The banned militant group Lashkar-e-Jhangvi (LeJ), which has carried out some of the worst sectarian attacks in the country's history, was named after his father. The group's Urdu-language name means Army of Jhangvi.
COMMENTS (3)
Comments are moderated and generally will be posted if they are on-topic and not abusive.
For more information, please see our Comments FAQ