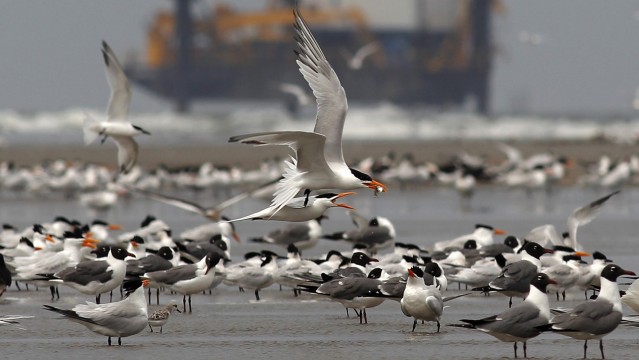 ---
KARACHI: Pakistan has seen a sharp decline in the number of migratory birds visiting Pakistan every year, said conservationists on Wednesday.

"It is quite alarming that birds that are special to our country, migratory as well as native, are disappearing," said scientist Rahat Jabeen. She explained that World Migratory Birds Day is aimed at increasing awareness on globally-threatened migratory birds. The theme for the year 2010 is "Save Migratory Birds in Crisis - Every Species Counts" and it focuses on birds on the brink of extinction.

Almost 12.4 per cent of a total of 9,865 species of birds in the world are currently classified as globally threatened and 192 of them are considered critically endangered. Scientists have already raised alarm bells over the disappearance of the Oriental whitebacked vulture that was once one of the most common raptors in the Indian subcontinent. A population decline of over 95 per cent, starting in the 1990s, was first noted at Keoladeo National Park, India.

An estimated 19 per cent of all known birds are considered to be migratory, of which 11 per cent are globally threatened or are near threatened and 31 per cent are classified as critically endangered by the International Union for Conservation of Nature (IUCN), according to Bird Life International. Another scientist Dr Najam Khursheed said that critically endangered bird species are found throughout the world, with most countries supporting at least one species with this highest risk category assigned by the IUCN. Some of the "migratory birds in crisis" include the Slenderbilled Curlew, the Northern Bald Ibis, the Sociable Lapwing, the Waved Albatross and the Orange-bellied Parrot.

These birds usually face human- driven threats, such as agriculture, hunting, trapping, logging, urbanisation, pollution, fishing and invasive alien species. All these activities contribute to climate change which makes the environment inhospitable to these birds. The two scientists called students and other people from the community to play their role in protecting these species. Meanwhile, Bert Lenten, executive secretary of the UN Environment Programme's African-Eurasian Migratory Waterbird Agreement (AEWA) said in a statement, "The threat of extinction faced by individual bird species is a reflection of the larger extinction crisis threatening other species and the natural diversity that underpins all life on Earth."

If a bird species threatens to become extinct, it is often a clear sign that the conditions of its required habitats have changed and that other species dependent on it may also be affected, said Elizabeth Maruma Mrema, executive secretary of the Convention on Migratory Species. The focus on most threatened migratory birds in 2010 acts as yet another reminder to governments that they need to do more internationally to conserve these species across their migratory ranges, said Mrema Dr Marco Lambertini, chief executive of Bird Life, believed that international collaboration is the only way to conserve migratory birds as they pass along several different countries.

Local conservationists mention that Pakistan is also included in the list of 40 countries who have committed to promote the cause of migratory birds' conservation at all levels.

Published in the Express Tribune, May 13th, 2010.