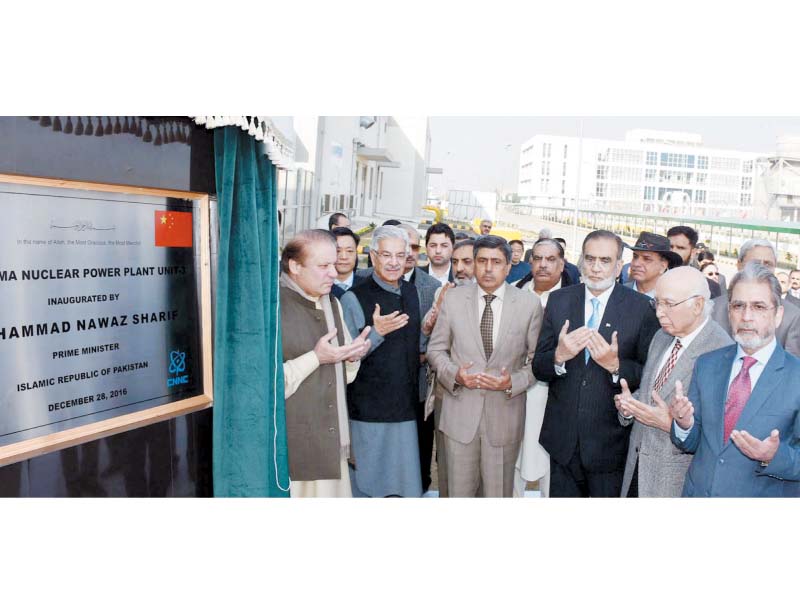 ---
CHASHMA: The country's fourth nuclear power plant went online on Wednesday, signalling joint collaboration with China and adding 340 megawatts to the national grid as part of the government's efforts to end a growth-sapping energy deficit.

Pakistan is one of the few developing countries pursuing atomic energy as it seeks to close an electricity shortfall that can stretch up to 7,000MW in peak summer months, or around 32% of the total demand.

The Chashma-III reactor, located some 250 kilometres southwest of Islamabad, is the third built as part of a collaborative effort between the Pakistan Atomic Energy Commission (PAEC) and China National Nuclear Corporation (CNNC).

The country's first nuclear plant was supplied by Canada in 1972, with an installed capacity of 137MW.

"Today we have crossed an important milestone in the journey to free the nation from scheduled power cuts. I am thankful to Allah and congratulate the entire nation," Prime Minister Nawaz Sharif told an inaugural ceremony attended by Chinese and Pakistani officials.

"Our commitment to rid the nation of electricity load-shedding by 2018 will be fulfilled Inshallah, for which I am personally overseeing power projects," he added.

The prime minister said a fourth Chashma plant was expected to be commissioned by April 2017. Two more reactors will follow at an unspecified date in Punjab, as well as two giant 2,200MW power stations in Karachi. Islamabad is aiming to produce 8,800MW from atomic energy by 2030.

Pakistan has been struggling to provide enough power to its nearly 200 million citizens for years, and Premier Sharif has vowed to solve the crisis by 2018.

However, he criticised his predecessors for pushing the country into 'darkness'. "Those responsible [for the power crisis] must be questioned over their grave negligence," he said while referring to the PPP-led previous government. "They must be grilled for giving the nation the curse of 18-hour power outages a day," he added.

Premier Sharif said uninterrupted power supply was the lifeline of the industry, which has suffered a severe setback due to the power crisis. "The country is now coming out of troubled times with the completion of development projects on full pace, improved economy and law and order."

Premier Sharif also used the opportunity to indirectly hit out at his political arch nemesis, Imran Khan, for his politics of protest street agitation. "Since everything is going on in the right direction, political sit-ins and street agitation doesn't make any sense," he added and advised his political rivals not to create hurdles and instead rise above mutual differences and work in the interest of Pakistan.

The prime minister said Chashma-III was a reflection of friendship between Pakistan and China. He recalled that the agreement for Chashma-I project was concluded during his earlier tenure. The completion of K2 and K3 plants would not only generate 2,200MW electricity but also strengthen ties between the two countries.

He said the government was also mindful of ensuring the safety standards of the nuclear plants and expressed satisfaction over the vigilance of the Pakistan Nuclear Regulatory Authority. The government would fulfill the needs of PAEC in its projects, he said and thanked the China Atomic Energy Commission, CNNC and Exim Bank for providing financial and technical support.

Premier Sharif lauded the services of Chashma-III staff and announced a two-month bonus with their salaries in recognition to their hard work.

PAEC Chairman Muhammad Naeem said the environment-friendly Chashma nuclear projects were in accordance with the international safety standards.  The completion of Chashma-III would not only meet the national requirements of electricity but would also ensure continuity of economic activity, he added.

The vice president of CNNC said China's cooperation with Pakistan in nuclear energy was for peaceful purposes and reflected strategic nature of their relationship. He felicitated the Pakistan government on completion of Chashma-III and said China would further strengthen cooperation in nuclear energy.

Published in The Express Tribune, December 29th, 2016.
COMMENTS
Comments are moderated and generally will be posted if they are on-topic and not abusive.
For more information, please see our Comments FAQ