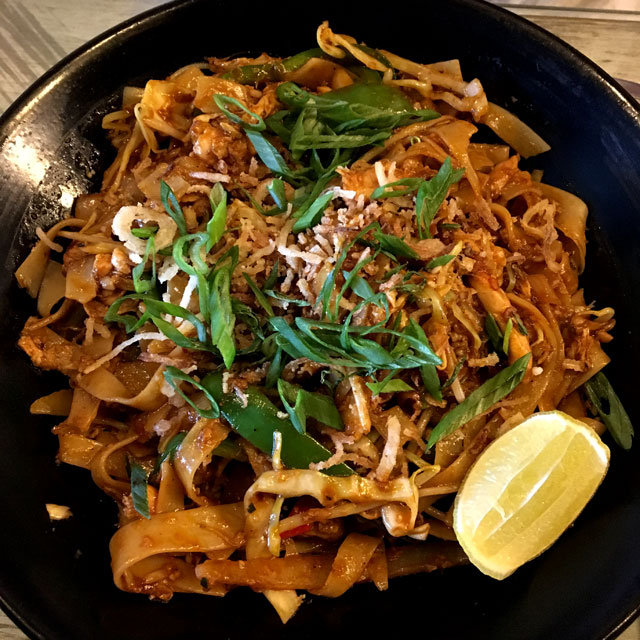 ---
From our age-old love affair with Chinese cuisine to our relatively recent appetite for Thai, Japanese and Korean, Pakistanis have a supreme obsession with Pan-Asian flavours.

Although there are many restaurants offering Pan-Asian food, only a few have been able to nail the cuisine and SOI Asian Bistro is one of them. The restaurant opened its doors to Karachiites in September last year and has continued to remain a favourite.

Although the restaurant is small its not congested and has a warm, personal ambiance.

Once you get to the menu you'll find it's not as elaborate as some others, however, it's appealing.




For the starters, we ordered the satay chicken salad and wasabi prawns. While the satay chicken salad left more to be desired, the heat on the prawns definitely deserves a nod. The prawns were perfectly cooked, however, the insipid sauce accompanying them could be done away with.




Crispy fish in tamarind sauce stood out among the mains. Served with steamed rice, the fish was buttery, flaky and cooked beautifully. The tamarind sauce had a memorable flavour and the Kaffir lime leaves lent a delicious aroma but was a little too strong.




My enthusiasm for the sticky oyster chicken waned after the first forkful. While it looked appetizing, it was too salty. The spicy noodle bowl on the other hand was a pleasant surprise. Mimicking the flavours of pad-Thai, the noodle bowl was spicy as promised with the right amounts of acid, herbs and crunch.

Keeping in line with the rest of the menu, the restaurant does not offer much in desserts. However, if you have a sweet tooth and are wholly devoted to chocolate then the sound of this dessert will make you a fan before you've even had a mouthful. The 'Nutella wontons' looked as enticing as they sounded and tasted even better. Served with coconut milk and ice-cream, the dessert was addictive and disappeared faster than it had arrived.




All in all, SOI is definitely worth a second visit.
COMMENTS
Comments are moderated and generally will be posted if they are on-topic and not abusive.
For more information, please see our Comments FAQ