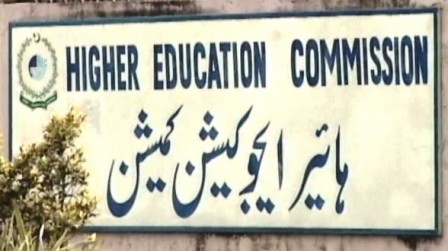 ---
ISLAMABAD: President Mamnoon Hussain directed the Higher Education Commission (HEC) to carry out full audit of 170 universities across the country to minimize the incidence of corruption in academia.

The orders coincide with HEC's own quality check of all undergraduate programmes.

Transfer and posting: Govt appoints new education secretary

In September this year, the HEC took action against 31 PhD and 26 MPhil programmes at a number of universities for failing to meet the minimum quality criteria.

Financial mismanagement, misuse of authority, nepotism in appointments and political interference are common in almost all universities.

The President's orders were given to HEC chairperson Dr Mukhtar Ahmed.

Full audits were ordered in the wake of constant complaints of irregularities at the Federal Urdu University of Arts, Science & Technology (FUUAST) and Karakoram International University, Gilgit-Baltistan and other federally-chartered universities.

177 MPhil, PhD scholars fail to complete their degrees

FUUAST's VC Salman D. Muhammad was recently blamed for holding a plagiarised PhD degree.  The president asked the HEC to submit a compliance report. The president, the HEC chief said, had expressed concern over reports of financial and academic wrongdoing at various universities.

Ahmed said he was specifically asked to carry out audits of FUUAST and Karachi University on a priority basis.

Audits will not be a cakewalk as there are several challenges after the establishment of higher education commissions in Punjab and Sindh.

According to sources, the HEC would also look into the number of faculty members at universities against the actual requirement. There are often reports that universities start programmes without prescribed requirements, hence undermining quality.

HEC shuts down 34 postgraduate programmes 

The HEC is currently working to finalise the terms of reference (ToRs) for the audits.

The TORs will include the quality of research, publications and its impact. The HEC has been blamed for ignoring universities for churning out shallow research papers without any relevance or benefit to society and industry.

Published in The Express Tribune, December 26th, 2016.