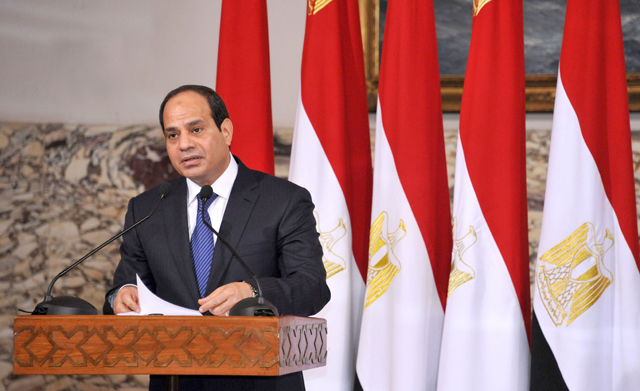 ---
CAIRO, EGYPT: Egypt said Friday it agreed to delay a vote on a UN Security Council resolution against Israeli settlements during a phone call between President Abdel Fattah al-Sisi and US President-elect Donald Trump.

On Thursday, Egypt requested that the vote be postponed a day after it submitted the draft text to the council, which prompted Israel to reach out to Trump to block a resolution.

Trump called Sisi, after he issued a statement demanding that Washington exercise a veto. In a statement on Friday, the Egyptian presidency said the phone call "touched on the draft resolution... on Israeli settlements."

Pakistani embassy in Cairo aids 18 stranded sailors in Red Sea

"The two leaders agreed on the importance of giving the new administration a chance to deal comprehensively with all the aspects of the Palestinian cause to achieve a comprehensive settlement," it said.

Longstanding disputes: Palestinian ambassador laments lack of Muslim unity

The Egyptian turnaround surprised many but follows repeated expressions of admiration for Trump from Sisi, a former military chief who overthrew his Islamist predecessor in 2013 in a move condemned by President Barack Obama. Israel had launched a frantic lobbying effort to pressure Egypt to drop the bid and reached out to its supporters in the United States and at the Security Council for support.

Obama's administration has expressed mounting anger over the continued expansion of Jewish settlements in the occupied Palestinian West Bank, and speculation has grown that he could launch another initiative before leaving office next month.

Trump names party veteran Sean Spicer as press secretary

A senior Security Council diplomat suggested the motion could be buried indefinitely.

"There was a window of opportunity. Whether that window is still there is really not clear," said a Western diplomat.

Trump, who campaigned on a promise to recognize Jerusalem as Israel's capital, had bluntly said Washington should use its veto to block the resolution.

The United Nations maintains that settlements are illegal, but UN officials have reported a surge in construction over the past months.