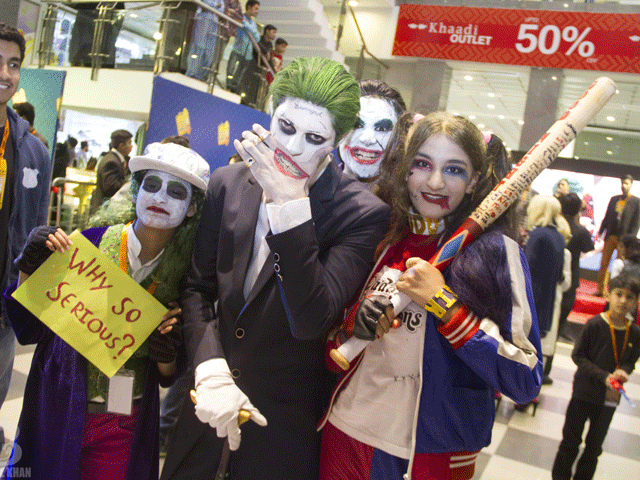 ---
KARACHI: It doesn't happen often that the comic and anime fans in Karachi get to openly share their enthusiasm and celebrate their favourite fictional universes. The second Karachi Film and Comic Con (KFCC) did exactly that, bringing the geeks hidden behind their laptop screens watching Batman vs. Superman or Death Note to Atrium Mall.

On the ground floor, the small area between the stairs, elevators and escalators was allocated to the event. People walked around in their costumes and one couldn't even recognise their friends. Scorpion from Mortal Kombat and Slenderman could be seen roaming around and so could the likes of Freddy from A Nightmare on Elm Street, Green Arrow and many obscure characters only long-time fans were aware of.

Interactive event: Karachi Film &Comic Con next month

Unsurprisingly, The Joker was the most popular cosplay as is every season, but another popular cosplay was Harley Quinn's from Suicide Squad. Cosplay is the most important part of a comic con; KFCC got that right. However, it was the lack of any other activities that turned it into a subpar event.




"It's interesting because cosplaying is considered taboo in many parts of the world," A cosplayer, dressed as Zubazu from Japanese manga series Naruto told The Express Tribune. "We are considered outcasts and I am glad that here in Karachi, we get to have this kind of an event. In Japan, there's a term for obsessive fans of anime and manga 'Otaku' and it has a negative connotation."
He added the event lacked activities and was congested due to a smaller space. However, "it is a positive first step and a start for better and bigger comic cons in Pakistan."

Worth the wait: A Comic-Con to remember
Another cosplayer dressed as The Joker, enthusiastically said, "I am glad it happened. Art, poetry and music are the most important things for a country. Here, we are celebrating art."
That rang true as everyone who was a comic book, movies or anime fan could be found there, excited and taking photographs with other cosplayers. It wasn't just that people dressed as characters from their comic fandoms, some even created their own.

A cosplayer in a Japanese style dress carried a sign board saying "kowaii" which means scary but is often mispronounced as "kawaii". She said she was having a great time at the event. "It's bigger and better because last year, it was quite congested leaving the cosplayers jammed in a small place."




One of the four initiators of KFCC Fahad Shaikh said last year, they had around 500 people in the one-day event. "This year, we have had 900 in two days."

Regarding the lack of attractions and activities making it merely a cosplay party rather than a film and comic con, he said, "We had announced a fan art competition but people aren't really interested in that. Everyone just wants to dress up."
However, he said, "I agree that it is not a film and comic con. It's just a comic con. But this is just a baby step toward a better one. For next year, we plan to have better locations, more attractions and therefore, will be targeting about 5000 visitors."

Have something to add to the story? Share it in the comments below.
COMMENTS
Comments are moderated and generally will be posted if they are on-topic and not abusive.
For more information, please see our Comments FAQ