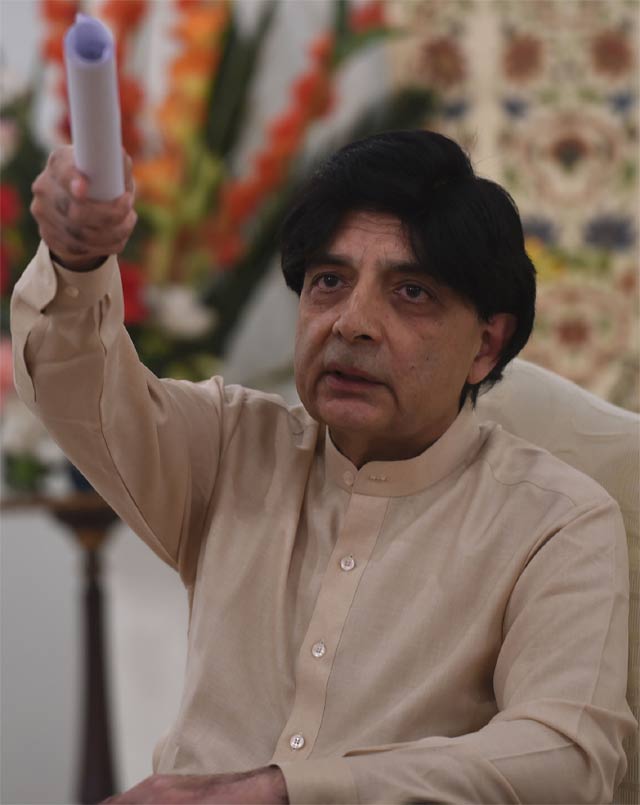 ---
In a scathing rejoinder to PPP demands for his resignation, Interior Minister Chaudhry Nisar said on Tuesday that the party's leaders had forgotten cases of corruption against them.

"Has the PPP forgotten about Surrey Palace?" the minister said while speaking to journalists.

Justice Isa's report: PPP calls for Nisar's removal

Taking a jibe at the party leaders, the interior minister said PPP's campaign against corruption was incomprehensible. He added that PPP was involved with Atlaf Khanani, the now infamous money changer.

Following a judicial commission's damning report on the August 8 Quetta carnage, PPP lawmakers called for Nisar to be removed from his post. The PPP also submitted an adjournment motion against Nisar in the National Assembly Secretariat, claiming that the interior minister was incapable of eradicating terrorism.

Quetta hospital carnage: Top bureaucrat blew the whistle on failures

Nisar said he was not under anyone's pressure . "I am only under pressure of my conscience," he claimed. On being asked to comment on the Sindh government's decision to send IG AD Khawaja on 'forced leave', Nisar said, "Khawaja is an honest officer, in fact, most reforms came during his time in office."

The interior minister urged the nation to give credit to the federal government and concerned authorities for bringing back Abdul Rehman alias Bhola, one of the key suspects of the Baldia factory fire, to Karachi.
COMMENTS (2)
Comments are moderated and generally will be posted if they are on-topic and not abusive.
For more information, please see our Comments FAQ