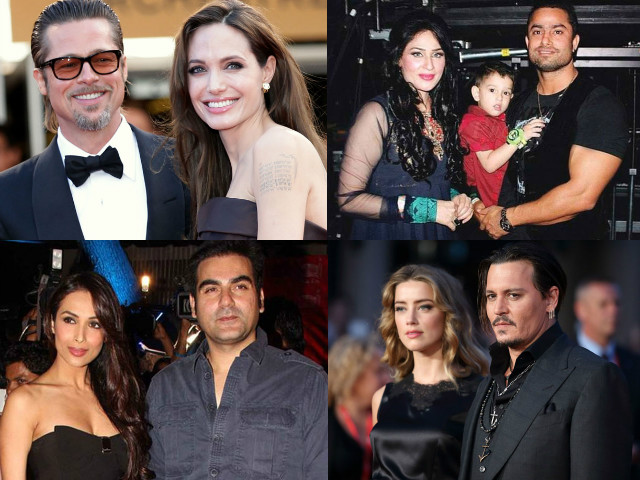 ---
With scores of celebrity marriages going kaput, 2016 can aptly be described as the year of splits.

From singers to actors and models, it seems just about everyone in Tinseltown got bitten by the divorce bug over the year. The Express Tribune presents a list of celebrity couples that decided to call it quits in 2016, leaving us crestfallen.

1. Humaira Arshad and Ahmed Butt




Singer Humaira Arshad and actor Ahmed Butt got married in 2004. Their knotty relationship had been making headlines for quite some time. The couple, who have a son together, parted ways in 2016.

2. Brad Pitt and Angelina Jolie




Brangelina were together for over a decade after infamously getting together following Mr. & Mrs. Smith in 2004. The couple got married in 2014. After two years of being together, Angelina filed for divorce on September 20 2016.

Ask Asad: Should I marry a stranger just because my parents want me to?

3. Arbaaz Khan and Malaika Arora




Bollywood star Malaika Arora married Arbaaz Khan in 2000. Their relationship hit rock bottom after 16 years of being together. The couple has a 13-year-old son.

4. Nouman Javaid and Fariha Parvez




Rockstar Nouman Javaid collaborated on several songs with vocalist Fariha Pervez. The couple subsequently got married in 2016 only to divorce months later.

5. Drew Barrymore and Will Kopelman




Drew and Will  married in 2012. The couple amicably called it quits in 2016 after being together for five years. They have two children.

Bob Thornton denies affair with Amber Heard

6. Farhan Akhtar and Adhuna Bhabani




Farhan Akhtar and Adhuna Bhabani dated each for three years before tying the knot in 2000. The couple separated after being married for 16 years. They have two daughters, Akira and Shakya.

7.  Johnny Depp and Amber Heard




Johnny and Amber got married in 2015 only to divorce on May 23, 2016 amid allegations of domestic abuse. After the split, Amber donated her settlement proceeds to charity.

Have something to add to the story? Share it in the comments below.
COMMENTS (1)
Comments are moderated and generally will be posted if they are on-topic and not abusive.
For more information, please see our Comments FAQ