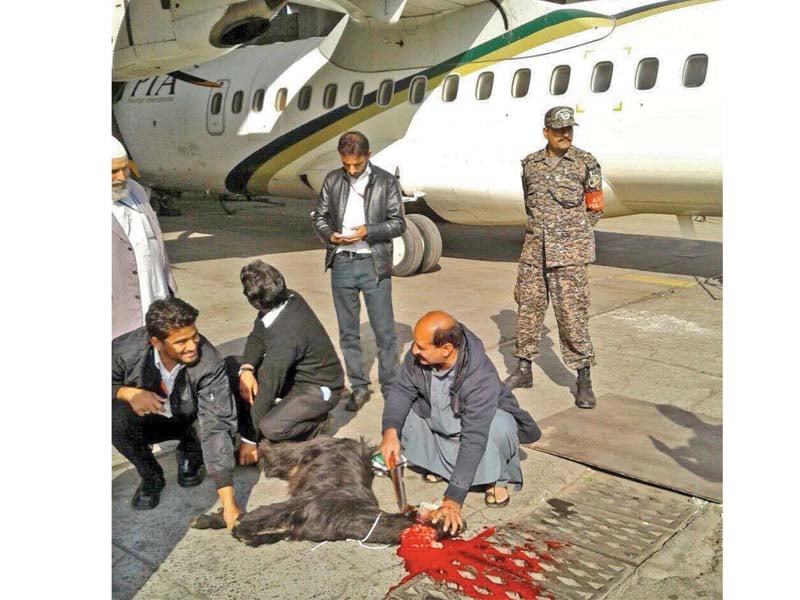 ---
ISLAMABAD: Believe it or not, but the national air carrier or rather its staff have found a fail-safe way to protect its ATR planes from the risk of crashing.

In a telling example of lack of trust in the fleet of ATRs, some PIA staffers slaughtered a black goat before flying a twin-engine turboprop short-haul aircraft on Sunday as a 'hedge against accidents'.

Last week the national carrier had grounded all of its nine ATRs for shakedown tests after a crash killed 47 people in Havelian on Dec 7 and another ATR plane reported technical issues shortly before take-off in Multan a few days later.

On Sunday, a bizarre picture took social media by storm.
The picture showed some men slaughtering a black goat near a PIA passenger jet while an Airport Security Force soldier stood nearby. Initially, the picture was thought to be photo-shopped, but it wasn't. It was genuine.

The picture was snapped at Islamabad's Benazir International Airport before a PIA ATR aircraft took off for Multan. The magic worked! And the flight, PK-681, landed safely at its destination.

The picture went viral on social media, triggering scathing criticism of the national carrier from journalists, social activists and celebrities. "Pre ATR flight Sadka.... Picture says it all," wrote popular singer Fakhra-e-Alam on mirctroblogging site Twitter.

"Why was the goat sacrificed? The pilot doesn't trust the plane? PIA doesn't trust the pilot? CAA [Civil Aviation Authority] doesn't trust PIA or passengers don't trust anyone?" tweeted social activist Jibran Nasir.

Television anchor and journalist Ejaz Haider wrote: "When Charles Perrow was working on his theory of normal accidents, he totally missed out on 'kala bakras' as a hedge against accidents."

The PIA management distanced itself from the superstitious practice with its spokesperson Daniyal Gillani saying "it was done by some local employees as a gesture of gratitude over the clearance of the first ATR [for flying]." He said it wasn't a management decision.

Gilani's explanation aside, in Pakistani culture a black goat is sacrificed to ward off evil.

Aviation sources say animal sacrifice ahead of a flight is not something new. They say the staff of two private airlines had also slaughtered goats before resuming flights following two deadly air crashes in 2010 and 2012.

"But this one was done in a reckless manner. When you slaughter an animal in the middle of a major airport next to an aircraft, it is bound to attract attention," said an office-bearer of the Pakistan International Airlines Pilots Association (PALPA).

"When the staff starts seeking divine intervention, it means something is seriously wrong that needs to be fixed," he added.

Aviation sources say the ritual sacrifice shows fear besetting the PIA employees associated with flight operations, especially those assigned to ATRs. "Ever since the flight PK-661 crashed, the staff sits fingers crossed whenever a flight takes off," one source claimed.

A member of the Joint Action Committee of Pakistan International Airlines Employees (JACPIAE) says ATRs have been discarded by most airlines in the world but PIA still has nearly a dozen of them. "After every crash, we start waiting for the next tragedy to happen instead of fixing responsibility, and identifying and punishing those responsible."

Published in The Express Tribune, December 19th, 2016.
COMMENTS (12)
Comments are moderated and generally will be posted if they are on-topic and not abusive.
For more information, please see our Comments FAQ