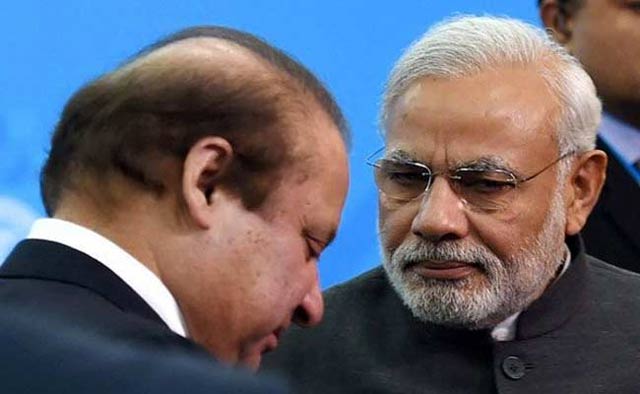 ---
Pakistan and India are facing serious difficulties in their bilateral relations. Though they are not in a state of war, a virtual warlike situation exists on the Line of Control (LoC) in Kashmir. They are engaged in an intense propaganda against each other.  Their mutual antagonism has increased since Narendra Modi became India's Prime Minister in May 2014.

An interesting feature of the difficult Pakistan-India relation is that there is a wide discrepancy in the informal and personal interaction between Prime Minister Nawaz Sharif and Prime Minister Narendra Modi and the policies of their governments. The goodwill reflected the personal interaction of the two Prime Ministers has not played any moderating role on the troubled relations between the two governments.

India holds Pakistan responsible for all terrorist incidents in mainland India and Indian-administered Kashmir.  The major incidents enumerated by India include the terrorist attack on the Indian Parliament (December 2001), the attack in Mumbai (November 2008), the military camp Pathankot attack (January 2016), the military camp in Uri attack (September 2016), and an attack of Nagrota Army Camp near Jammu City (November 2016). India blames Lashkar-e-Tayyaba/Jamaat-ud-Dawa, Jaish-i-Muhammad for these terrorist incidents and wants that the chiefs of these organizations should be handed over to it. Further, it also wants the completion of the trial of Lashkar-i-Tayyaba activists in connection with the Mumbai attack that has been going on in Rawalpindi since their arrest in December 2008.

India refuses to hold any dialogue with Pakistan until the latter adopts punitive measures against the above named groups and puts these out of action. This pre-condition for holding the talks is coupled with India's persistent campaign for isolating Pakistan at the international and regional levels and getting it declared as a terrorist state by the United States and the UN.

It is not an advisable strategy on the part of India to reduce the dialogue process to a single issue, i.e., satisfy India on the terrorism related issues before any talks can take place.   Until the end of the 1980s, the government of Pakistan used to argue that increased trade and expanded societal relations with India could not be cultivated prior to the settlement of the Kashmir problem, i.e., settle the Kashmir problem first.   Now, Pakistan talks of Kashmir and other problems.   Similarly, India needs to adopt a more flexible approach of "Terrorism and other issues" if it is genuinely interested in resuming the dialogue for improvement of relations with Pakistan.

For India, terrorism means the above named organisations and their leaders.  As compared to India's narrow focus, Pakistan takes a more comprehensive view of terrorism in the region. It views these organisations as a part of a bigger problem of extremism and terrorism.

Pakistan complains about India's insensitivity towards the magnitude of terrorism issues and problems in Pakistan and the fact that Pakistan has suffered more human and material losses due to this menace. India is seen in Pakistan as an augmenter of terrorism in Pakistan by extending what Pakistan's official circles claim material support to various terrorist groups, including Pakistan Tehrik-e-Taliban, and Balochistan based dissident groups through Afghanistan territory with whose government it shares the negative views on Pakistan.

India's persistent anti-Pakistan propaganda aims at building diplomatic pressure on Pakistan for taking effective punitive actions against the groups identified by India.  In reality, this propaganda is counter-productive to India's goal of containing these groups. The Indian campaign is used by these organisations to entrench them in Pakistan, especially in the Punjab, by arguing that India is opposed to them because they stand for the liberation of Kashmir.  The more India talks against these groups, the stronger become these groups in Pakistan. This reduces the space for the Pakistan government to take any stern action against them.

India needs to abandon its policy of coercion and intimidation in Kashmir. As long as the internal situation in Indian-administered Kashmir stays unsettled by popular protest of young Kashmiris and India continues with human rights violations, anti-India sentiments would remain strong in Pakistan.  Similarly, there is a need of restoring peace and stability on the LoC and both need to include the alleged negative role of their intelligence agencies in each other's territories in the agenda for the talks in the future.

India should develop a comprehensive agenda for talks that can have terrorism as the priority for India but it cannot dictate a single item agenda to Pakistan. There has to be a shared agenda for the talks that includes all issues of concerns for both countries. Both Kashmir (priority for Pakistan) and terrorism (priority for India) can be on agenda along with other issues and problems.

Pakistan and India need to resume unconditional talks on all contentious issues and they should tone-down anti propaganda against each other. They need to explore the option of adopting a shared approach towards the on-going strife in Afghanistan.

Positive reciprocity rather than coercive diplomacy can defuse the current tensions between Pakistan and India.

Bilateral talks cannot produce any positive results until the power elite in both countries display a categorical political determination to put an end to negative propaganda, restore peace on the LoC on the basis of the November 2003 ceasefire, and resume result-oriented talks.  They should also restore the confidence building measures already agreed to and add new CBMs in order to overcome the new biases that have cropped up in their relations since May 2014, when Modi became India's Prime Minister.  This will help to boost their economic relations and trade ties.

India needs to tone down ultra-nationalism and curtail the role of hardline Hindu groups in the BJP. This is going to be as challenging for the Indian government as it would be a formidable task for the Pakistan government to contain the influence of militant Islamic groups, especially the Kashmir focused groups, in Pakistani state and society.

Published in The Express Tribune, December 19th, 2016.

Like Opinion & Editorial on Facebook, follow @ETOpEd on Twitter to receive all updates on all our daily pieces.
COMMENTS (5)
Comments are moderated and generally will be posted if they are on-topic and not abusive.
For more information, please see our Comments FAQ