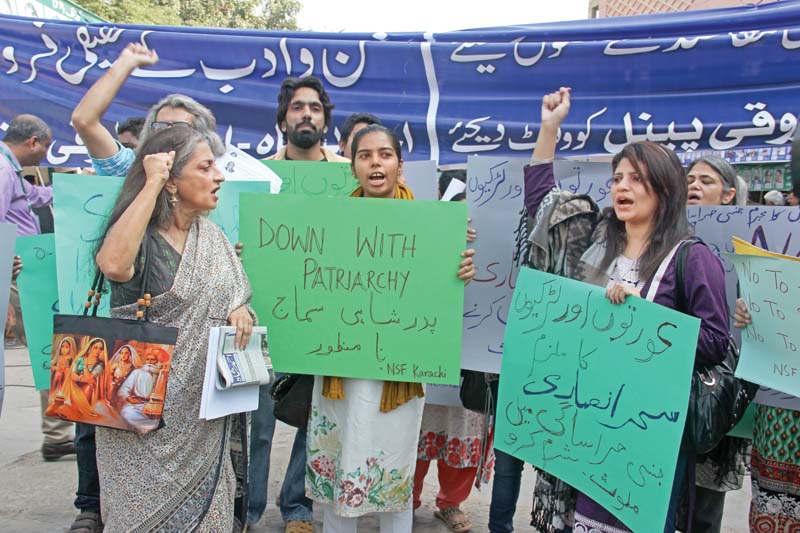 ---
KARACHI: Controversy surrounded the elections of the Arts Council of Pakistan, Karachi, as a group of charged activists shouted slogans against Urdu poet Sahar Ansari's nomination on the governing body of Ahmed Shah-Ejaz Farooqi panel contesting the polls on Sunday.

Led by Tehrik-e-Niswan's Sheema Kermani, activists belonging to National Students Federation (NSF), Karachi, and other groups gathered to make their voice heard against Ansari, who is undergoing investigations on charges of sexual harassment in the Sindh ombudsman secretariat.

A professor of the Pakistan Study Centre, Dr Navin G Haider, had filed a complaint against Ansari, who, she claimed, had sexually harassed her. After repeatedly having felt ignored and wronged by the university administration, she has now filed a complaint against the professor in the Sindh ombudsman secretariat.

Feminists protesting inside the Arts Council premises, where the elections were taking place, demanded of the Ahmed Shah-Ejaz Farooqi panel to remove Ansari from their governing body in light of the sexual harassment charges he is facing.

"Ansari is a shameless man who sexually harasses colleagues and students," said NSF activist Zehra Ali. "We are protesting against the fact that Ansari has been allowed to contest the elections of Arts Council, which is an avenue for promoting arts and culture. To allow him to be a governing body member means that Arts Council is officially an unsafe place for women. It will alienate women and prevent them from participating in arts."




Explaining the reason for the protest, another NSF activist, Laila Raza, told The Express Tribune that since the case surfaced, civil society activists have demanded of the president of Arts Council to remove Ansari, who was in the organising committee, and also cancel his membership. "Shah assured us that he [Ansari] will not be a part of his elections due to his controversial character but today he is contesting the elections as the governing body member," she said, adding that how can someone who is undergoing a trial before the Sindh ombudsman even contest the election.

Kermani has personally written to Arts Council about the issue and the kind of misogynist language used by Ansari for women who do theatre. She asked how Ansari, who uses abusive language for women doing theatre and passes comments on their clothes, can be the vice-president of the committee for arts and culture in the Arts Council.

Activists roughed up

As the protesters shouted slogans against Ansari inside Arts Council, police officials forced the activists to leave the premises and told them to protest outside. Even Kermani, who is a member of Arts Council, was told to leave. Later, she was stopped from stepping into the premises again until the protest went on.

An activist of Tehrik-e-Niswan, Waheed Ali, was also warned by the police to stop the protest or else face arrest.

Ahmed Shah steps in

As the protesters continued to shout slogans outside Arts Council, Ahmed Shah came to invite them for a talk. He claimed that even though they are taking him as a member on the governing body, an inquiry committee will be set up to investigate charges against him. Shah promised that if Ansari is found guilty, he will be removed from the governing body and his membership will also be cancelled. The protesters dispersed after this with mixed feelings - some were satisfied with Shah's promise while others felt that the promise was just a delay tactic to ensure that peaceful elections are held.

Published in The Express Tribune, December 19th, 2016.