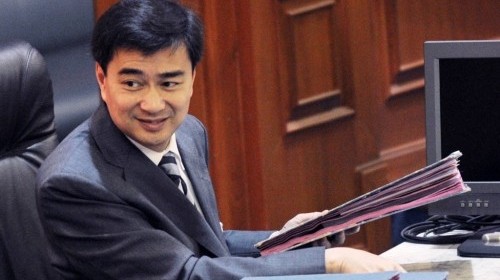 ---
BANGKOK:
In an effort to deal with the two-month old crisis in Thailand, authorities asked Bangkok residents to leave an area of the city occupied by protestors.
The government has decided to squeeze the demonstrators in the capital by cutting off power, water, telephones, transport and food supplies. Earlier, Prime Minister Abhisit had demanded the protests end, but Red Shirts appeared in no mood to pack up and go home.
Their leaders have vowed to continue their rally until deputy premier is charged for his role overseeing a deadly April 10 crackdown.
The authorities are faced with the dilemma of how to dislodge thousands of protesters, including women and children, from a fortified encampment sprawling across 3 sq km (1.2 sq mile) of the central Bangkok shopping district.
Fresh supplies, including vegetables, meat and bottled water, were brought in on Tuesday and piled up under a large tent in front of the shuttered Four Seasons Hotel. "We are not going anywhere until the government shows they will take responsibility for the clash," said 39-year-old protester Panna Saengkumboon. "People lost their eyes, their legs and arms. Others paid for this with their lives."
Disparate views among red shirt leaders, ranging from radical former communists to academics more inclined to negotiate, make it hard for them to reach a decision on how to end the protest. Some leaders harbour political ambitions and need to appease rank-and-file supporters.
Others fear that ending the protest now will be a one-way ticket to jail. Some hardliners advocate stepping up the protests to win the fight once and for all. The red shirts say Abhisit's ruling coalition has no mandate after coming to power in a parliamentary vote 17 months ago orchestrated by the army.
COMMENTS
Comments are moderated and generally will be posted if they are on-topic and not abusive.
For more information, please see our Comments FAQ