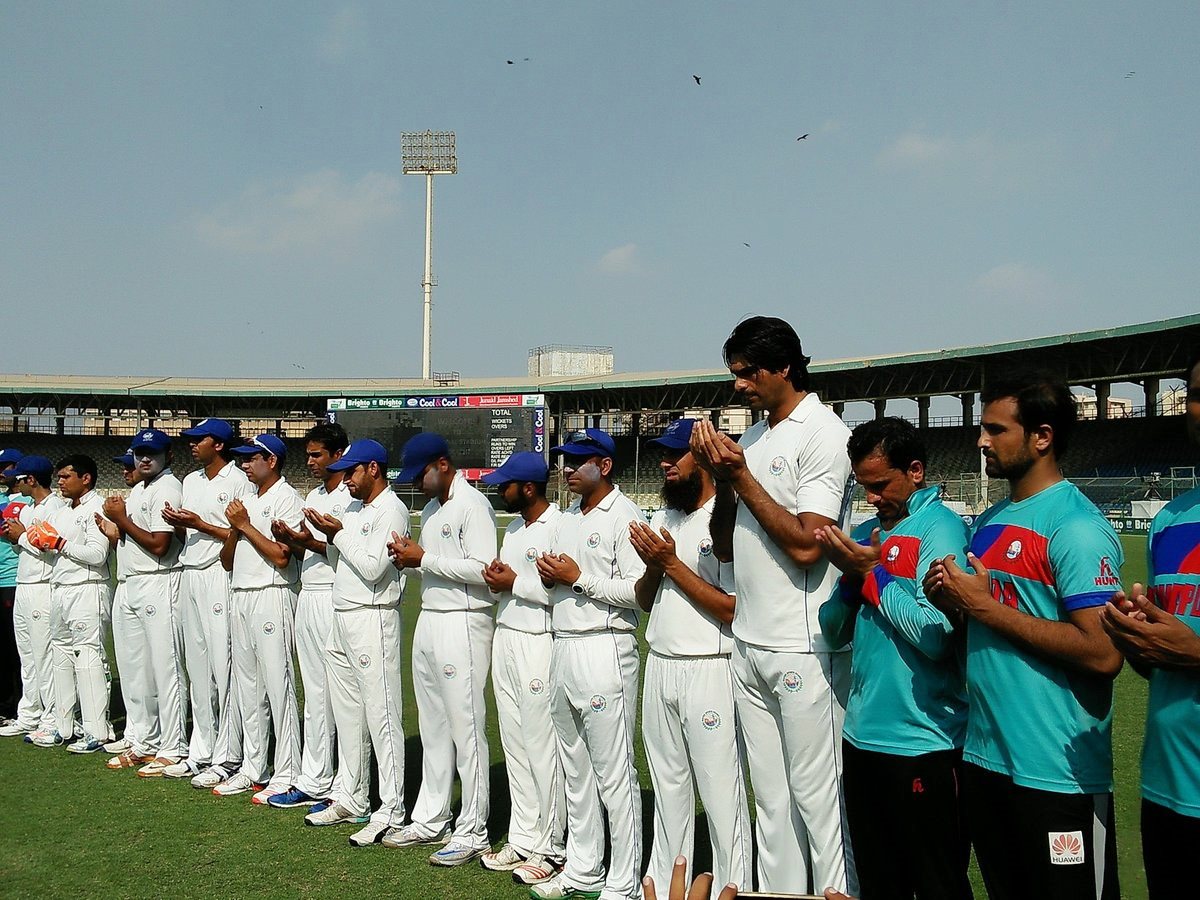 ---
Members of WAPDA and HBL cricket teams observed a minute of silence and held prayers for the victims Pakistan International Airlines (PIA) flight 661 at the National Stadium in Karachi today before kicking off the final match of the ongoing Quaid-e-Azam trophy.

PK661 crashed near Abbottabad on Wednesday while en route from Chitral to Islamabad, killing all 48 passengers and crew members on board.


#QEA16 finalists offering fateha for the departed souls in the PK 661 tragedy pic.twitter.com/og1Oyz9Ijq

— Pakistan Cricket (@TheRealPCB) December 10, 2016


Among those on board were Junaid Jamshed, a former pop star turned evangelical Muslim, and his wife.

Islamabad-bound PIA aircraft crashes near Abbottabad, no survivors

A member of Chitral's traditional royal family, his wife and family were among the dead, besides a Chitral administration official, Osama Ahmad Warraich, whose wife and infant daughter also died. Two Austrians and one Chinese national were also among those on board.

In a statement released on Saturday, Pakistan Cricket Board (PCB) expressed deep sorrow over the tragic crash.

"PCB is deeply saddened at the tragic crash of PIA's flight PK 661, en route to Islamabad from Chitral," said the statement. "The ill-fated flight that claimed the lives of 48 people, also had one of PCB's strongest supporters Junaid Jamshed on board. PCB is grieved by the untimely demise of all those on board, and would like to extend its deepest condolences to the families of the victims."

Pakistan cricket team observes minute's silence for PIA victims

The statement added: "Junaid's 'Dil Dil Pakistan' became the unofficial anthem for Pakistan cricket and almost all the matches that the team played since then were amidst crowds chanting and holding placards of these three words of extreme patriotism. His iconic legacy will certainly be remembered for many generations to come. Our heartfelt sympathies are with his family and we hope his loved ones find solace in these difficult times."

[brid video="83970" player="7247" title="Cricketers observe moment of silence for PIA crash victims before QuaideAzam trophy final"]
COMMENTS
Comments are moderated and generally will be posted if they are on-topic and not abusive.
For more information, please see our Comments FAQ