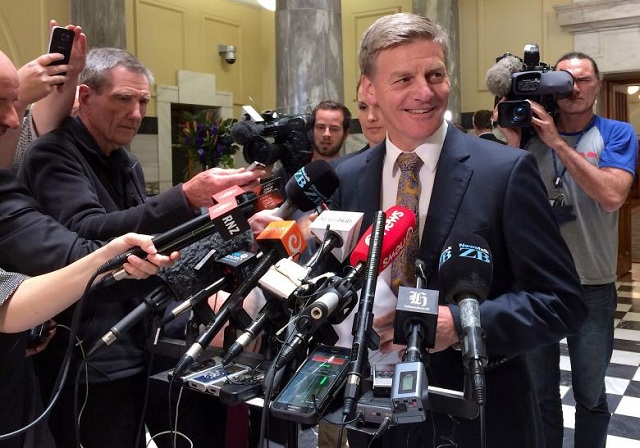 ---
WELLINGTON: New Zealand Finance Minister Bill English is set to be confirmed as the country's next leader after both his competitors for the prime ministership dropped out of the race on Thursday.

Health Minister Jonathan Coleman and Police Minister Judith Collins both conceded the race as it became clear that English had the support of the 59-member caucus.

English said the swift agreement within the ruling center-right National Party on a new leader would help the government ensure a smooth transition following John Key's surprise resignation earlier this week.

New Zealand Prime Minister John Key resigns

"It's going to allow us as a government to re-set, look forward and provide New Zealand with good government after John Key," English told reporters in New Zealand's distinctive "Beehive" parliament building in the capital, Wellington.

English, who thirteen years ago oversaw a disastrous election loss for the National Party to the center-left Labour Party, takes the reins of a country in good economic shape compared to much of the developed world.

But it hasn't been smooth sailing in recent years with a slump in global milk prices harming the country's major export commodity and low inflation causing a persistent monetary policy headache.

English also presided on Thursday over a downgrade to the budget surplus estimate for 2016/17, largely due to an estimated NZ$1 billion in net costs related to a devastating earthquake that rocked the nation last month.

The government's half-year economic and fiscal update showed it expects to post a NZ$473 million ($341.13 million) surplus in the year to June 2017, lower than its prior forecast of NZ$719 million.

The hugely popular Key will also be a hard act to follow.

New Zealand PM says two dead in quake, dispatching emergency aid

"I won't do it the same way as John, I'm a different person," Key said. "It will lead to changes in how the national party will operate."

Both Collins and Coleman threw their support behind English to provide a unified stance for the party ahead of next year's general election, where the Nationals are expected to lose some support without the extremely popular Key.

"It is very important that the party comes together, gets on with the job of winning the next election," Coleman told reporters.

English, who will be formally named the prime minister at a caucus meeting on Monday, has already lined up senior cabinet minister Steven Joyce, the minister for economic development, to replace him in the finance ministry.

English was the clear favorite to replace Key in a Fairfax-Nielsen poll, with 37 percent of New Zealanders surveyed backing him.
COMMENTS
Comments are moderated and generally will be posted if they are on-topic and not abusive.
For more information, please see our Comments FAQ