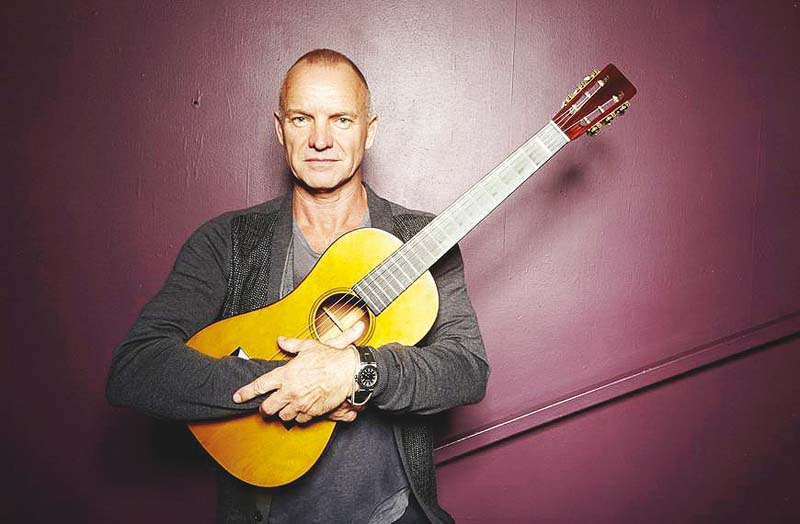 ---
Gordon Sumner – commonly known as Sting – hailed from a shipping town in northeast England but always imagined a better life for himself. When an uncle left a Spanish guitar at his house, he found his path to one.

"It became my best friend," Sting told The Hollywood Reporter in a recent interview. The arrival of The Beatles shortly thereafter showed the aspiring musician it was possible for someone from a small town to make it big. As he arrived at adulthood, he worked a string of regular jobs by day but continued to play music with different bands by night. "I'm grateful for that rather wide-ranging experience," stated Sting.

Ironically, the singer got his nickname at 18 because he refused to wear one band's uniform. "My girlfriend had knit me a top which was kind of black and yellow and I thought it looked really cool. Of course, the band laughed at it and thought I looked like a bee or a wasp, and thereby started calling me 'Sting'," he revealed.

Sting arrived in London in 1977, just as a new sort of music was becoming popular: punk. A drummer named Stewart Copeland invited him to join "a band inspired by The Sex Pistols," called The Police. The name apparently was chosen because Copeland's father was a founding member of the CIA.

After a year of struggle, The Police stole a tape and recorded their master over another band's, headed to America and, thanks to the song Roxanne, suddenly caught on in a massive way. "It kind of went viral and as we were touring around America in a station wagon, driving ourselves, we'd hear our song," the Desert Rose hit-maker recalled. "I'm grateful for those years of struggle; of not being sure where the next meal was coming from."




Over the next seven years, Sting wrote and The Police performed songs that became hugely popular, including Every Breath You Take, Message in a Bottle and Every Little Thing She Does Is Magic. Then, in 1983, after having five studio albums and six Grammys, Sting put The Police on a hiatus and eventually disbanded it. "I found myself in the biggest band in the world at the time and made another counterintuitive decision to begin again," he reflected. "I couldn't rationalise it at the time but my intuition was telling me that that was the thing to do."

He continued, "The Police were a fantastic group, but we were defined by limitation. There were only three of us and it was a very signature sound, but could only go so far. My interest was in songwriting so I wanted a larger vehicle than just The Police."

As a solo artist, Sting gained "a wider palette to paint with." He made songs like "If You Love Somebody Then Set Them Free, Fragile and Fields of Gold and released an album of 16th-century art songs performed on a lute.

Last month, the artist released 57th and 9th, his 12th solo LP, which marks a return to the sound of The Police and also reopened the Bataclan, the French concert venue attacked by terrorists a year earlier. Now he's focused on getting people to see upcoming documentary Jim: The James Foley Story, for which he has made a song.

Published in The Express Tribune, December 9th, 2016.

Like Life & Style on Facebook, follow @ETLifeandStyle on Twitter for the latest in fashion, gossip and entertainment.
COMMENTS
Comments are moderated and generally will be posted if they are on-topic and not abusive.
For more information, please see our Comments FAQ