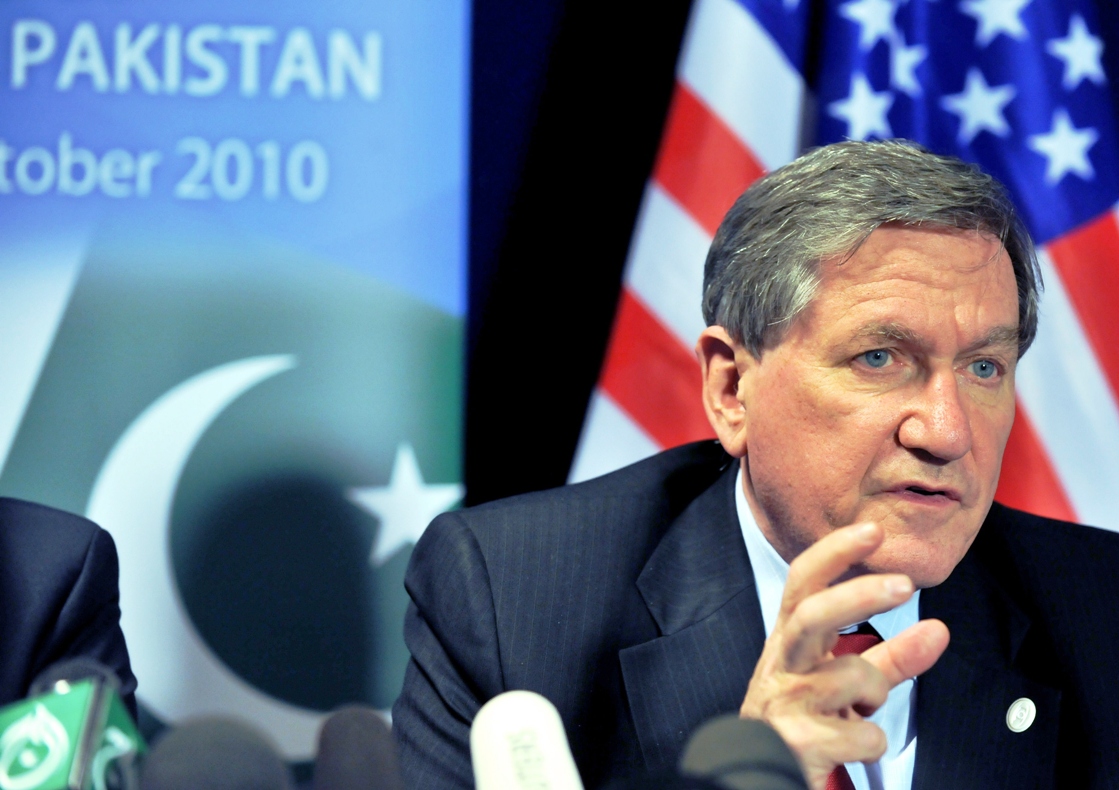 ---
NEW YORK/WASHINGTON: US Special Representative Richard Holbrooke said that Hillary Clinton's earlier remarks on severe consequences for a Pakistan-linked attack in the US were misinterpreted, emphasising that the remarks in no way indicated any impact on the flow of US economic and military aid to the country.

"As for [her] interview on (CBS channel's) 60 Minutes (program), I think that perhaps it was not fully understood for what she was saying by some people who didn't see the full text or didn't appreciate what she was saying," said Holbrooke. Holbrooke's clarification comes on the heels of Pakistan's objections to Clinton's remarks. Washington has been encouraged by Islamabad's help in the ongoing probe, added Holbrooke, saying that Clinton "herself praised the Pakistan government for what it has done."

In fact, both economic and counter-terrorism US assistance efforts for Pakistan are underway to help it deal with energy and water issues and civilian aid has enormously increased under the Kerry-Lugar Bill, he said at a Foreign Press Center briefing. "The Pakistani Army has taken some very courageous actions in Swat and South Waziristan. There's a lot left to be done, but I'm not here to criticise the government but to thank it for what it's done," he concluded.

Meanwhile, Pakistan's UN Ambassador Abdullah Hussain Haroon has called Faisal Shahzad, a "misguided soul" who had acted alone, disagreeing with the Obama administration officials' claim that the accused was trained by the Pakistani Taliban. In an interview on CBS television on Monday, he said that General David Petraeus, the US commander in Afghanistan, "had it right that this was the act of a lone man." Although Ambassador Haroon speculated that the Obama administration may have other evidence, he said: "All I am saying is that the evidence I have points in one direction, it does not have the signature of the Taliban.

If this is the standard of the TTP, then I think there is nothing to worry about," he said. The attempt was botched to such a degree that it was "not even funny," the envoy said. Haroon said the reason he believes that the Taliban had no hand in the incident, because they have carried out many successful bombings inside Pakistan, killing and injuring thousands of people. Shahzad's bomb mixture was not the one used by the Taliban, who do not use propane.

What Shahzad had done was something that one could pick up on the internet, he said, adding there was nothing professional about it. Besides, what was left in the rigged car was not a bomb; it was an incendiary device without a trigger. Asked why the Taliban had denied responsibility for the bomb attempt in New York, the ambassador remarked, "Because this makes them a laughing stock!" Haroon said even though Shahzad is an American citizen, Pakistan feels responsible because it was an ally in the war on terrorism, which more was beneficial to his country as it was the victim of that menace.

"This is not, and I repeat not, a Pakistan terror threat," the Pakistani envoy said, while underscoring the fact that Shahzad is a dual citizen. He reaffirmed Pakistan's firm commitment to eradicate the menace of terrorism. Haroon also refuted US Secretary of State Hillary's Clinton's claim that some Pakistani government officials know the whereabouts of Osama bin Laden and other senior al Qaeda, saying that no one knows the location of those individuals.

If the Pakistani government knew about the location of Osama Bin Laden, they would have gone after him, he added. Shahzad's attempt was a "horrible act" by a "misguided soul" who might have been inspired or aided by others, and not by the Taliban, who have denied any responsibility. "

Published in the Express Tribune, May 12th, 2010.
COMMENTS
Comments are moderated and generally will be posted if they are on-topic and not abusive.
For more information, please see our Comments FAQ