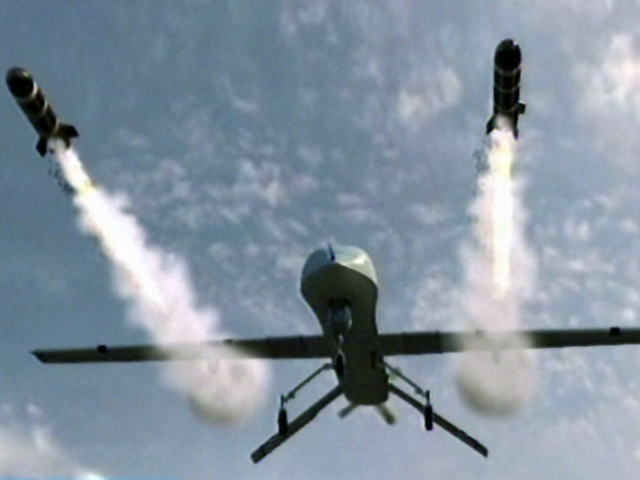 ---
MIRANSHAH: A US drone aircraft killed at least 24 suspected militants in two attacks on Tuesday in the North Waziristan tribal agency.

In the first of the two drone attacks, more than 12 missiles were fired in Dattakhel, west of Miramshah, news agency Reuters reported. "Three missiles hit a vehicle and three militants sitting in it were killed," said an intelligence agency official in the region, who declined to be identified. The drones then fired a barrage of missiles at a nearby militant compound, killing at least 11 more, according to a second security official. The second attack was on a militant camp some distance from the first strike.

Two missiles killed at least 10 militants, intelligence officials and residents said. Taliban officials were not available for comment. The nationalities of the dead were not immediately clear, nor was there any information on any possible high-value targets, a news agency AFP said. Tuesday's strikes were the second in Datta Khel since Sunday. Datta Khel is a known hub for al Qaeda. The Lashkar al Zil, or Shadow Army, al Qaeda's military force, is based in the region.

The US has struck targets in Datta Khel 14 times since 2004, which makes for more than 10 percent of the total of US airstrikes in Pakistan, the Long War Journal reported. Almost all drone strikes this year have targeted North Wazristan. "There are two ideological groups of militants, one who want to target the Pakistani state and the other who do not see Pakistan as an enemy.

The US is targeting the first group, while the army is targeting the other," said Dr Altafullah, Professor of Journalism and Mass Communication at University of Peshawar. On the precision of drone strikes, he said: "Air strikes can never be precise. People in these areas live in joint families. When you target a militant compound, you also target their families, their children." (ADDITIONAL REPORTING BY ZEHRA ABID)

Published in the Express Tribune, May 12th, 2010.
COMMENTS (1)
Comments are moderated and generally will be posted if they are on-topic and not abusive.
For more information, please see our Comments FAQ