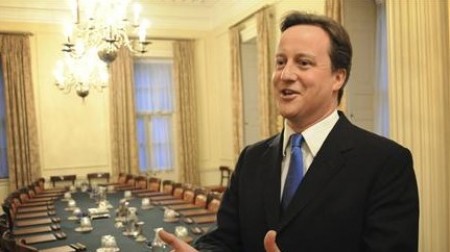 ---
Britain's Queen Elizabeth II appointed Conservative leader David Cameron as prime minister on Tuesday, after the resignation of Gordon Brown five days after cliffhanger elections.

A statement from Buckingham Palace said the Queen had requested Cameron to form a new government. "The Right Honourable David Cameron accepted Her Majesty's offer and kissed her hand upon his appointment as prime minister," it said. Cameron later announced he planned to form a "full" coalition government of his Conservative party and the Liberal Democrats. Earlier, Gordon Brown announced he will stand down, in a dramatic move.

He also announced the start of formal power-sharing talks between the Labour party and third party the Liberal Democrats, who have only officially been talking to the main opposition Conservatives since last Thursday's general election. In an immediate counter-bid from the Conservatives, chief negotiator William Hague offered a key concession to the Lib Dems in return for their support in a coalition. Lib Dem leader Nick Clegg, who emerged as kingmaker after no party won a clear majority, welcomed Brown's statement that he will quit by September as "important" in a possible power-sharing deal between the two parties.

"I think his announcement could be an important element in the smooth transition towards a stable government," said Clegg, who indicated before the election he would not share power with Labour if Brown remained its leader. "It must have been a very difficult thing for him to say personally," added Clegg, whose centrist party is seen as politically closer to centre-left Labour than the centre-right Conservatives.

Published in the Express Tribune, May 12th, 2010.
COMMENTS
Comments are moderated and generally will be posted if they are on-topic and not abusive.
For more information, please see our Comments FAQ