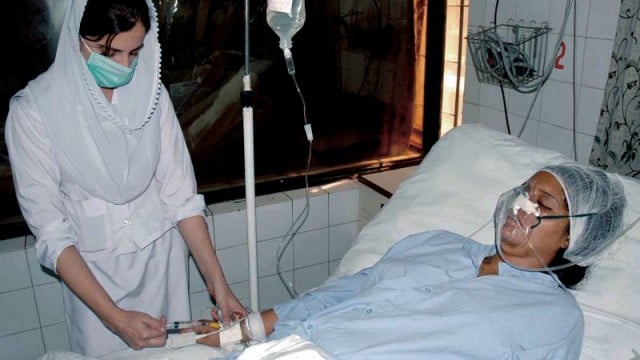 ---
ISLAMABAD: Nurses, both male and female, are the most important and integral part of the healthcare system, according to Dr Sharif Astori, Spokesman, Poly Clinic Hospital.

Every year May 12 is observed as International Nurses Day all over the world. This year's theme is 'Delivering Quality, Serving Communities: Nurses Leading Chronic Care'. The objective behind observing this day is to raise awareness about the contributions that nurses make and to highlight their dedication.

Dr Astori saluted their courage and determination, as well as the way they look after patients around the clock. "Nurses are the backbone of all healthcare centres; they work day and night to provide a better and more comfortable environment for patients," said Kalsoom Akhtar, Chief Nursing Superintendent, Pakistan Institute of Medical Sciences (Pims), who has been working as a nurse for 25 years. Currently there are more than 700 nurses in Pims as well as 300 nursing students, she added.

"It is a good sign that more women are getting into this profession but there is a need to provide proper training," Kalsoom added. Rabia Shaheen* has been working as a nurse for four and half years now. Her work shift keeps on rotating; she either works mornings, evenings or nights. "I do enjoy my work but sometimes it gets to me, when there is a lot of work and there is a shortage of staff," she said. A constant problem she says she faces is when attendants of patients, especially males, keep calling her without reason.

"I can't tell them to shut up or avoid them because if I do, they can lodge a complaint against us [nurses]," she said. Roha Hidayat, 30, a senior nurse at the gynaecology ward in Pims, said these days she is working an evening shift, from 2 pm to 8 pm. Night duty, from 8 pm to 8 am, is challenging however, Roha admitted. "Sometimes we have so much work that we hardly get time to even take a tea break," she said. She too complained about the behaviour of some of the patients' attendants. A few months ago, a male attendant slapped a nurse which was very embarrassing for them, she said.

Attendants behave badly with the nurses almost every day, but as there is no place where they can register complaints, they feel it is better to remain silent, Roha said. She was quite happy with the doctors though, and said most of them treat nurses as a team member.

Kalsoom Akhtar believes nurses should be made part of policymaking, they should be given monetary incentives and most importantly, they should be provided security. "Most of all, the nurses should be treated with the same dignity and honour as other officials," she said. Dr Astori felt the government should offer special packages to nurses to boost their morale. *NAME CHANGED TO PROTECT PRIVACY

Published in the Express Tribune, May 12th, 2010.
COMMENTS
Comments are moderated and generally will be posted if they are on-topic and not abusive.
For more information, please see our Comments FAQ