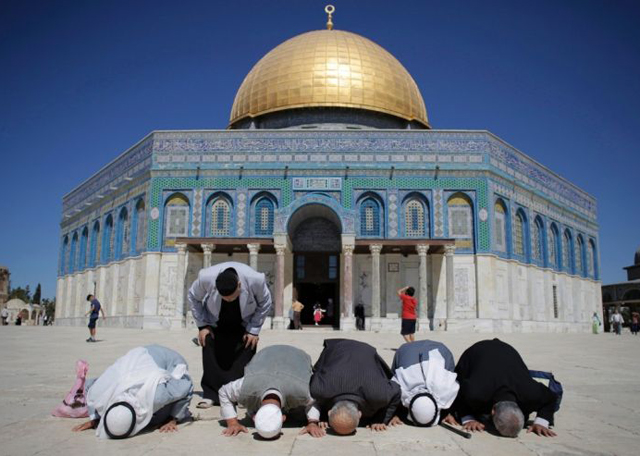 ---
Hackers took over an Israeli news channel broadcast on Tuesday night and aired the Muslim call to prayer.

The hackers, who appeared to be from Saudi Arabia, took over satellites and disrupted the Channel 2 transmission to broadcast the Azan allegedly due to a controversial bill limiting the volume of the call to prayer from mosques.


האקרים השתלטו על שידורי מהדורת חדשות 2, ובמקום - שידרו קריאת מואזין pic.twitter.com/lCmDajZXh4

— החדשות - N12 (@N12News) November 29, 2016


Earlier in November, the Israeli Ministerial Committee for Legislation approved the anti-Azan bill before it goes to the Knesset, where it must be accepted in three rounds of voting to become law.

The hacked transmission, which played the Muslim call to prayer in the background, also aired various messages written in Hebrew warning of divine retribution. One of them read, "Punishment from God," while others read, "The fire burned hearts" and "To for big great God [is] war from God (the fire burns you)."

Arab lawmaker delivers Azan in Israeli parliament to protest against controversial bill

"Residents in northern Israel viewing Channel 2 via satellite TV reported that during the evening broadcast someone took over central control of the broadcast and played the voice of the muezzin," Channel 2 said in response to the incident.



A preliminary investigation initiated by the news channel found that the hackers had wrested control of the satellite broadcasting in mostly Arab communities.

Earlier, an Arab-Muslim lawmaker raised Azan in the Israeli Parliament to protest against the aforementioned bill.



Ahmad Tibi, a member of the Knesset (Israeli parliament), raised the Azan during his speech and said the proposed bill demonstrated the Israeli government's 'Islamophobia'. Another Israeli-Arab politician, Taleb Abu Arar, also joined Tibi in the call to prayer.

This article originally appeared on The Jerusalem Post.
COMMENTS (4)
Comments are moderated and generally will be posted if they are on-topic and not abusive.
For more information, please see our Comments FAQ