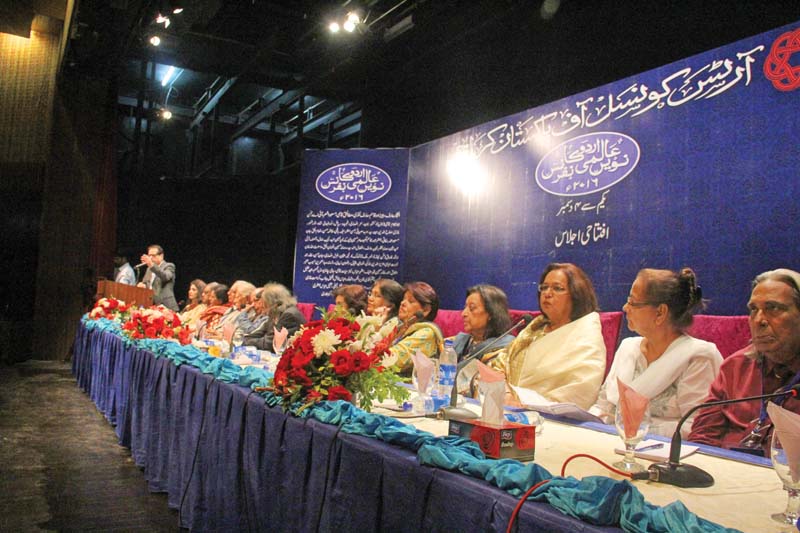 ---
KARACHI: The ninth Aalmi Urdu Conference kicked off at Arts Council of Pakistan, Karachi, on Thursday with a number of sessions planned for the coming days.

Delhi-based critic Prof Shamim Hanafi, addressing the inaugural session of the conference through audio link, said that the people of India and Pakistan are divided due to the border but they are still connected through literature.

Hanafi was of the view that Urdu is not exclusive to Muslims alone as it is widely spoken by people of all religions across India and Pakistan. "Urdu has deep connections with regional languages," he said. He added that without analysing regional languages, the analysis of Urdu can never be possible.

"The world will never change until the politicians start reading literature," he remarked.

A number of other speakers addressed the session. One of the keynote speakers, Asif Farrukhi, said that arts and literature will remain alive and cannot die. He added that it is not possible for literature to stop flourishing after the demise of a certain person as after Mir Taqi Mir passed away, Ghalib took the reins and later on Iqbal and Faiz. He added that no poet was less than any other and has equal importance in literature.

Farrukhi said that we must appreciate our unsung and uncelebrated scholars, adding that we do not have a scarcity of intellectuals but the problem is that we have stopped reading.

Poet Imdad Hussaini remembered Baba Bulleh Shah and Bhagat Kabir in their respective verses while Prof Sahar Ansari spoke about peace. "We created fewer books and more guns," he said.

Urdu columnist Zahida Hina maintained that Urdu and Hindi have tributaries in the form of local dialects.

"We [Indians and Pakistanis] are one nation in the literal sense of the world," said playwright Noorul Huda Shah.

Zehra Nigah shared that she seldom goes to places because of her old age but when young people ask her to speak about Faiz, she feels honoured to have lived in their time.

Speakers emphasised that it is a proud moment for Karachi to have hosted one of the biggest international Urdu conferences.

Paying tribute to the lost gems

Ahmed Shah, the former secretary of Arts Council, remarked that a few of the brightest stars of Urdu literature are not amongst us such as Intizar Hussain, Jamiluddin Aali, Aslam Farrukhi and Fatima Suriya Bajya, who were a regular feature of the earlier conferences.

Shah added that the Urdu language is thankful to all the languages from which it has borrowed words. According to him, it is because of this adoption that we have representation from all the languages in Urdu.

He further said that a national cultural conference will be organised in February next year. He said that writers, poets and intellectuals of all the languages bring people together. He remarked that we must learn as many languages as we can since it helps lessen distances between people.

The inaugural session was followed by two sessions on Faiz Ahmed Faiz. The conference will continue till December 4.

Published in The Express Tribune, December 2nd, 2016.