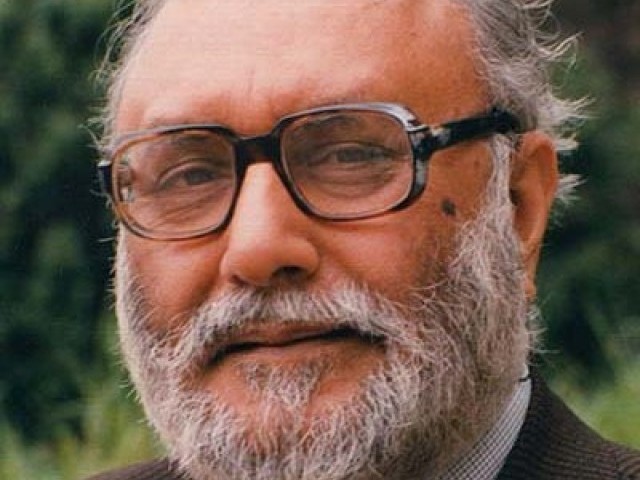 ---
LAHORE: Religious beliefs are personal and must not be used against anyone. While Dr Abdus Salam brought the name of Pakistan to the international stage, Pakistanis do not consider him one of their countrymen because of his beliefs.

These views were expressed by renowned social critic Dr Pervez Hoodbhoy at a conference organised by the Government College University (GCU), Lahore to pay homage to the Nobel laureate on his 20th death anniversary.

Abdus Salam's death anniversary passes by without mention

Hoodbhoy said Dr Salam's religious beliefs were his personal matter and no one should discriminate against him for that. "It is a reflection of the mentality of our society, which judges personalities on the yardstick of religion," he said. "We must change our behaviour towards others if we want to progress [as a society]. All scientific thinking and research papers are meaningless with this narrow-mindedness."

Dr Shaukat Hameed, a nuclear physicist, quoting KK Aziz said: "We still choose to deny the reasons why we have neglected his [Dr Salam's} memory and choose to neglect his contributions, why we almost demonized his existence and how we harassed him. The greatest son of the soil, neglected by the state, harassed by the people, honoured by the enemy and forgotten from public memory: Dr Abdus Salam."

Hameed recalled that after Dr Salam received the Nobel prize, Quaid-e-Azam University decided to award him an honorary degree. But the ceremony was disrupted by activists of a religious party and the ceremony had to be shifted to the National Assembly. "Even his alma mater, the Government College, did not give him due respect and denied giving him a residence," he said.

Dr Abdus Salam and all the wrong choices Pakistan made

Dr Salam died on 21 November, 1996 and won laurels across the world. His brother, who lived in Lahore, asked the government if it would like to provide protocol on the arrival of his coffin from Oxford but there was no response, Hameed said.

Dr Ahmed Ali said Dr Salam was a theoretical physicist, whose scientific work was guided by the search of a unified theory of the seemingly different forces and phenomena in nature.

The electroweak theory of particle physics will remain his lasting legacy. The discovery of the Higgs Boson in 2012 and its properties measured so far are the stunning proof of Salam-Weinberg model prepared in 1967-68.

"If Salam had been alive today, he would be busy modelling them now," Ali said. "He deserves better recognition in Pakistan. Egypt, for example, has set up an Ahmad Zewail's science city. Let us do something similar for Abdus Salam."

Dr Fayyazuddin, a student of Dr Salam in early 60s at the GCU, said the Nobel laureate started evening classes and introduced modern courses in mathematics at the college. He believed the scientist left Pakistan in 1954 because of isolation.

Pointing towards the thin attendance at the conference, Dr Asghar Qadir said he was disappointed the physicist community did not give due recognition to Dr Salam. "Stress is given to writing research papers but no solutions to problems are introduced," he said.

Being a student of Salam, Qadir recalled the scientist always urged the need to introduce new ideas in Pakistan. "This thinking should be followed to solve problems," he said.

Dr Munir Rashid, another student of Salam, shared an interesting piece of information. At the age of two years, Dr Salam won a healthy baby competition in Jhang.

Published in The Express Tribune, November 24th, 2016.
COMMENTS (6)
Comments are moderated and generally will be posted if they are on-topic and not abusive.
For more information, please see our Comments FAQ