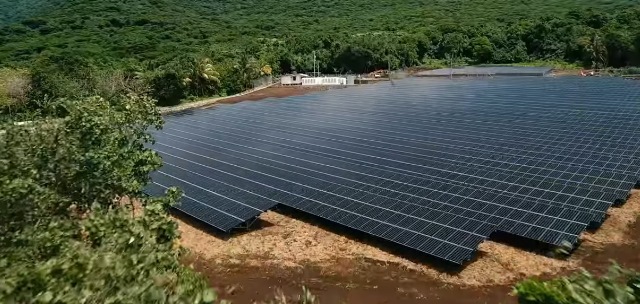 ---
With Tesla expected to complete its $2.6 billion acquisition of SolarCity this week, the company has given a brief example of what to expect with a major solar energy project that wires up the whole island of Ta'u in American Samoa.

Tesla's Musk adds solar roofs to his clean energy vision

The island, located more than 4,000 miles from the West Coast of the United States, is no stranger to power rationing and outages and was previously run on diesel generators. Ta'u has had a makeover with Tesla installing a microgrid of solar energy panels and batteries supplying nearly the island's entire 600 residents power requirement.




It seems the project is intended to show off the potential benefits of the SolarCity acquisition, with Ta'u's microgrid comprised of 5,328 solar panels from SolarCity and Tesla, along with 60 Tesla Powerpack batteries for storage.

But buying SolarCity remains a risky move for Tesla, with the purchase including billions of dollars of debt for a company that's far from profitable (SolarCity spends $6 for every $1 it makes in sales).




Nevertheless, Tesla CEO Elon Musk describes the acquisition as "blindingly obvious" — a necessary step in his so-called "Master Plan" to integrate clean energy generation and storage.

SpaceX aiming to return to flight next month: CEO Musk

The company further said that it would offset the island's use of more than 109,500 gallons of diesel per year, along with the expense of shipping that fuel.




"Factoring in the escalating cost of fuel, along with transporting such mass quantities to the small island, the financial impact is substantial," said Tesla in a blog post.

As a result of the microgrid, the island can stay fully powered for three days without sunlight, with the capacity to fully recharge within seven hours.




"This project will help lessen the carbon footprint of the world," local resident Keith Ahsoon said in a Tesla blog post. "Living on an island, you experience global warming firsthand. Beach erosions and other noticeable changes are a part of life here. It's a serious problem, and this project will hopefully set a good example for everyone else to follow."

Hyperloop One settles co-founder lawsuit

With positive early signs, it remains to be seen whether consumers keep benefitting from this acquisition.


COMMENTS
Comments are moderated and generally will be posted if they are on-topic and not abusive.
For more information, please see our Comments FAQ