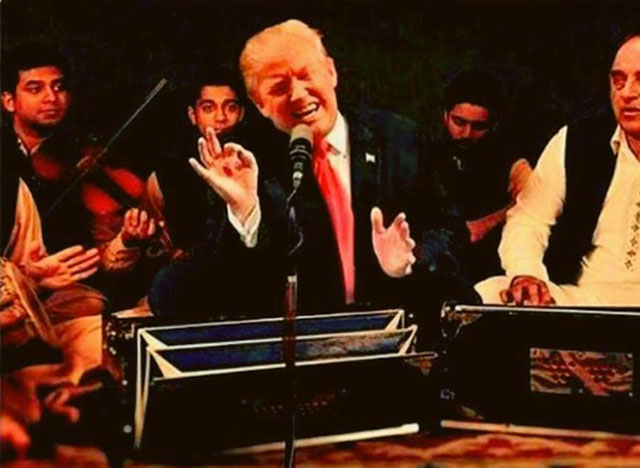 ---
As one of the world's most anticipated election comes to an end with Donald Trump winning the 2016 US presidential election, it is no surprise that Twitter has gone into overdrive with everyone giving their own two cents on the stunning upset.

Pakistanis are certainly no exception to the rule, finding plenty to laugh/cry about when it comes to Trump's win. Here's some of the best reactions on Twitter:




bhai jo jo America se wapis aaraha hai chocolates lete aana

— ammar (@rustlinggodd) November 9, 2016


https://twitter.com/taha_wajahat/status/796297853748580352

https://twitter.com/AzmarKhan/status/796243215489896448


Hillary and Trump both have copies in Pakistan. One is PM other is trying to be. War of corrupt and stupid pic.twitter.com/wNgHdehT8w

— 塔拉勒 (@TalalAmin) October 31, 2016
Dear America , Trump is what happens when you watch too much Reality TV

— Huma Qureshi (@humasqureshi) November 9, 2016


https://twitter.com/Says_Saadi/status/796233365129203712?ref_src=twsrc%5Etfw

https://twitter.com/Arshad_Afridi/status/796318244122533888

https://twitter.com/monadarling/status/796242916083724288


the US has always been ahead of us; here we r still trying 2 mainstream extremists, there they've already got 1 on his way 2 the white house

— farid alvie (@faridalvie) November 9, 2016
PIA's new ad following Trump's win pic.twitter.com/pkpLP5gllX

— omar r quraishi (@omar_quraishi) November 9, 2016


https://twitter.com/XainGardezi/status/796318211818061824

https://twitter.com/iamTribalKhan/status/796317917138874368


Khuda Hafiz doston! Main Pakistan wapas ja raha hun pic.twitter.com/j7sqll4qnk

— WWE Urdu (@WWEUrdu) November 9, 2016
It is high time Pakistanis stopped worrying abt elections abroad & focused on putting our own house in order.

— Imran Khan (@ImranKhanPTI) November 9, 2016
I want Donald Trump to win so that all my friends come back to Pakistan again.

— Sheharyar Goraya (@goraya_) November 8, 2016
A muslim version of trump would win big in pakistan.

— فیزان (@punjabkhwa) October 29, 2016


And who knew Rahat would be so excited about the Trump win.


Congratulations @realDonaldTrump as the President Elect. Through our #sufi #music I would like you to see the real side of us Muslims

— Rahat Fateh Ali Khan (@RFAKWorld) November 9, 2016
COMMENTS (4)
Comments are moderated and generally will be posted if they are on-topic and not abusive.
For more information, please see our Comments FAQ