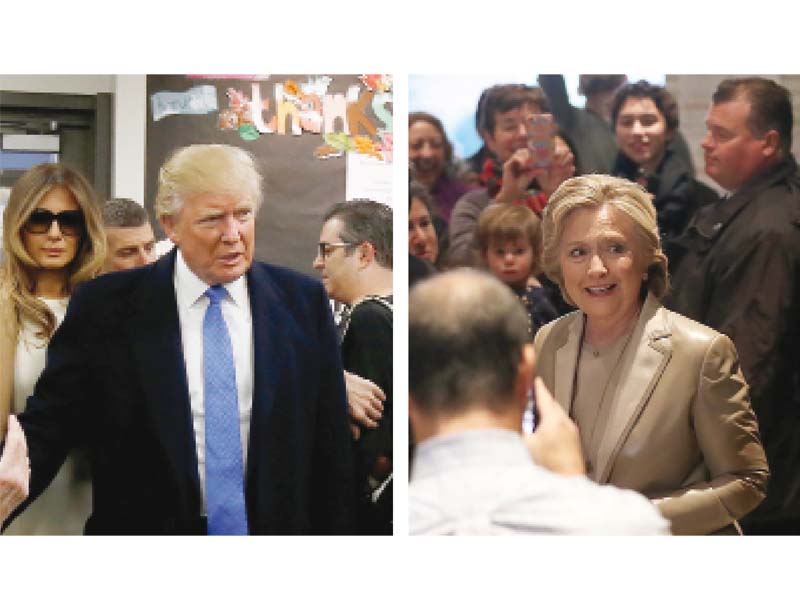 ---
NEW YORK: After a long and exceptionally negative campaign, Americans by the millions voted on Tuesday for their next president as opinion polls showed Democrat Hillary Clinton with a narrow lead over Republican Donald Trump.

In a battle that focused on the character of the candidates, Clinton and Trump made final, fervent appeals to voters late on Monday to turn out at the polls. Clinton led Trump by 44% to 39% in the last Reuters/Ipsos national tracking poll before Election Day. A Reuters/Ipsos States of the Nation poll gave Clinton a 90% chance of defeating Trump and said she was on track to win 303 Electoral College votes, with 270 needed for election.

Clinton or Trump? America voting at last

Financial markets were closely watching the election. US stocks slipped in cautious trading on Tuesday morning after they soared on Monday on belief by investors that Clinton was more likely to win the White House. The dollar rose against the safe-haven Japanese yen and Swiss franc on Tuesday, but was overall little moved.

More than 40 million voters cast ballots before Election Day in early voting in many states. Polls began to close at 7pm Eastern Time (0000 GMT on Wednesday), with the first meaningful results due about an hour later. US television networks called the winner of the 2008 and 2012 presidential elections at 11pm (0400 GMT) or shortly after.

Victory in US presidential elections is earned not by the popular vote, but by an Electoral College system that awards the White House on the basis of state-by-state wins, meaning a handful of states where the race is close assume an outsized importance.

The marathon US election campaign, which kicked off in early 2015, has been unusually negative, with each candidate accusing the other of lacking the character and judgment to be president. Majorities of voters in opinion polls have viewed both candidates unfavourably.

Mary Wheeler, 94, held her nose when asked which candidate she was supporting as she stood in line to vote at the Coliseum ballroom in St Petersburg, Florida, an important presidential battleground state. "I always vote Republican, so I guess I'll do that," Wheeler said. "He can make a fool of himself but I think he may be able to straighten things out a little bit," she said of Trump.

In Cleveland, Timothy Sommerfelt, 30, said he voted for Clinton. "I don't think Donald Trump would do a good job," Sommerfelt said, adding that his vote "is a vote against Donald, obviously."

Clinton, who is aiming to become the first woman US president, cast her ballot at an elementary school near her home in Chappaqua, New York early on Tuesday morning. "It is the most humbling feeling. I know how much responsibility goes with this. So many people are counting on the outcome of this election, what it means for our country. And I'll do the very best I can if I'm fortunate enough to win today," Clinton said.

Trump received a mixture of cheers and jeers as he arrived to vote at a school in Manhattan. He said voting so far looked good for him. "It's very good generally speaking. It's a great feeling." Asked if he would concede if the TV networks declared Clinton the winner, he answered, "Well, we'll see what happens."

Trump, who has argued that the political system is rigged against him, previously has said he might not accept the election results if he loses. He, on Tuesday, sued the registrar of voters in Clark County, Nevada over a polling place in Las Vegas that had been allowed to remain open late last week to accommodate people who were lined up to vote.

Trump, launching his first bid for elected office after decades as a public figure, has positioned himself as an agent of change, vowing to crack down on illegal immigration and end trade deals he says are harming US workers. He was expected to draw support heavily from white voters without college degrees.

Clinton was likely to draw support from college-educated voters and Hispanic and black voters. She has vowed to largely continue the policies of Barack Obama and to overcome income inequality among Americans, with a divide between the rich and poor. Major bookmakers and online exchanges were confident she would win.

Trump advisers, however, say the level of his support is not apparent in opinion polls and that they believe the real estate developer is in position for an upset victory along the lines of the 'Brexit' vote in June to pull Britain from the European Union.

What impact will US elections have on Pakistan?

An early indicator of who might prevail could come in North Carolina and Florida, two must-win states for Trump that were the subject of frantic last-minute efforts by both candidates. Races in both those states were shifting from favouring Clinton to being too close to call, according to opinion polls.

Democrats also are seeking to break the Republican lock on control of the US Congress. A strong turnout of voters for Clinton could jeopardise Republican control of the Senate, as voters choose 34 senators of the 100-member chamber on Tuesday. Democrats needed a net gain of five seats to win control.

All 435 seats in the House of Representatives were being contested. The House was expected to remain in Republican hands.

Published in The Express Tribune, November 9th, 2016.