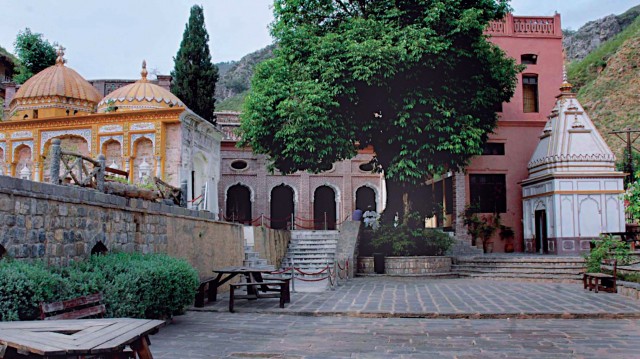 ---
ISLAMABAD: In order to preserve the history, culture and natural beauty of an ancient village that dates back to 300 years, the Capital Development Authority (CDA) developed Saidpur into a model village.

The main aim of the project was to conserve the culture of the village, located in the suburbs of Islamabad, as well as turn it into a tourists spot. What captures ones' eyes in Saidpur village, apart from the many restaurants, is the sight of three buildings standing closely together: a mandir, a church and a gurdwara.

The entrance to the village is through two gates made out of wood and mud– a clear attempt to strike a balance between the old and the new. "I love how the CDA has preserved the village and still brought a modern touch to it. My friends and I love to come here and have ice-cream, especially when the weather is nice," Samar, a student, told The Express Tribune. CDA has also set up a pictures' gallery inside the church, with pictures of the village's and Islamabad's history.

The building has been preserved and dim lights have been installed inside to make the pictures visible. "We want more places like this in the capital city. The villagers have been given a way to earn a livelihood and tourists have been given an opportunity to experience village life," Ramzan Sajjid, CDA spokesperson, said.

"It's just nice to see that there is a place, given the current political climate, where three very different religious buildings stand peacefully, next to each other," Ahmad Raza, a businessman said. Some of the residents have been living in the village for the last 40 years. "I remember (the time when former) prime minister Benazir Bhutto visited our village with her mother and met all the villagers," Lal Din, a clay potter, told The Express Tribune.

Published in the Express Tribune, May 11th,  2010.