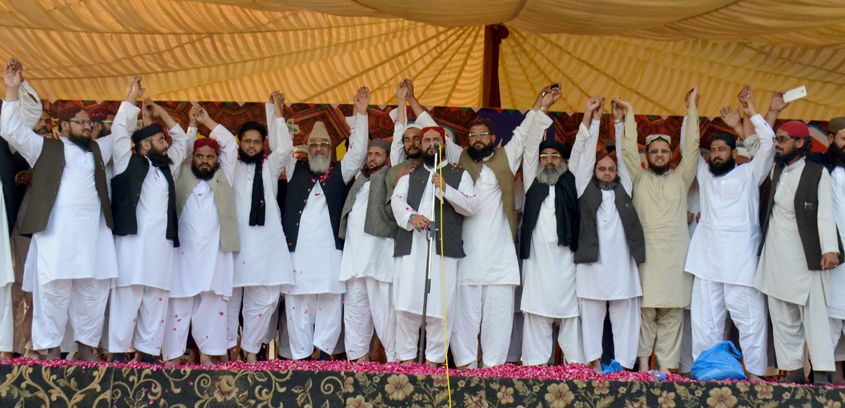 ---
KARACHI: "What have we done and why are you killing us?" asked a prayer leader as he begged for his life when a young target killer opened fire on him and two of his other companions in broad daylight. The victims were pleading but he continued to fire shots until all of them breathed their last.

A witness of the targeted attack that took place in District Central early Friday evening shared the above-mentioned scene.

As many as five members of Ahle Sunnat Wal Jamaat (ASWJ), including two prayer leaders, were shot and killed while another was critically wounded in three separate shooting incidents that took place within a span of one hour.

At Shafiq Morr

The major incident occurred in a crowded locality near Shafiq Morr in Federal B Area, where three ASWJ men were shot dead by armed assailants riding a motorcycle. A large number of commuters and shopkeepers were present in the area when the assailants initiated the shooting spree without any fear or apprehension.

According to witnesses, two unidentified men rode the motorcycle while the target killer sported a cap, a green-coloured shirt and black pants. They added that the victims begged for their lives but he continued to fire shots until all of them had breathed their last. "The suspect riding the motorcycle wore a helmet and he just remained on the vehicle," narrated a witness while talking to The Express Tribune. "The other suspect first fired two shots and then got off the motorcycle and opened indiscriminate fire at the victims when their [victims'] motorcycle fell down. After assuring that all of them have died, he left the place."

All three men died on the spot. The bodies were shifted to Abbasi Shaheed Hospital for medico-legal formalities. They were later identified as Maulana Usman Hyderi, Muhammad Yaqoob and Shahid Rafiq. All the victims were aged between 25 and 30 years.

They hailed from Azad Kashmir, were related with each other and lived in the city in Mosmiyat locality. The assailants targeted them when they were returning after attending the Tahafuz-e-Harmain Sharifeen rally outside the Siddiq-e-Akbar Masjid near Nagan Chowrangi after Friday prayers.

ASWJ claimed that the victims were affiliated with the organisation. Maulana Usman was the ASWJ in-charge for Mosmiyat unit as well as prayer leader of the Ashabus Suffah Masjid in Mosmiyat. The others who were killed along with him were ASWJ workers.

A large number of ASWJ leaders and workers reached the hospital following the incident and staged a protest. The protesters shouted slogans against the law enforcement agencies, government and the rival sectarian group. They also demanded the arrest of the culprits. "Everyone knows who killed our men," said the ASWJ spokesperson, hinting towards the rival sectarian group. "Those who are against Harmain are involved in the killings of ASWJ workers."

In North Nazimabad

In a similar incident, another prayer leader, identified as 30-year-old Shafiqur Rehman, was shot dead while he was also returning after attending the rally at Siddiq-e-Akbar Masjid. ASWJ claimed that he was a party supporter. SHO Zulfiqar Haider said that armed motorcyclists targeted him near Hyderi Market in North Nazimabad.

At Patel Para

Earlier in the day, two worshippers, who were also claimed to be supporters of ASWJ, were targeted at Patel Para in Jamshed Quarters. One of them, identified as Amin Muhammad, 30, died on the spot, while his companion, 35-year-old Abdul Baqi, was critically wounded. SHO Inam Junejo said that the victims belonged to Khuzdar, Balochistan, and were targeted by armed assailants while they were returning after offering Friday prayers.

Surge in sectarian attacks

Police officials said that they were investigating the series of targeted attacks from different angles. They suspect that the same group could have behind the multiple attacks that took place on Friday, adding that it could be a reaction to the recent attacks on rival sectarian groups in Karachi. Meanwhile, over half a dozen members of the Shia community were killed in the city during this Muharram, whose killers remain at large. "Nothing can be said until the investigation is completed as it could be incidents of terrorism instead of sectarianism," said West and Central DIG Zulfiqar Larik during his visit to the crime scene at Shafiq Morr. "We are investigating the cases from different angles."

Published in The Express Tribune, November 5th, 2016.
COMMENTS
Comments are moderated and generally will be posted if they are on-topic and not abusive.
For more information, please see our Comments FAQ