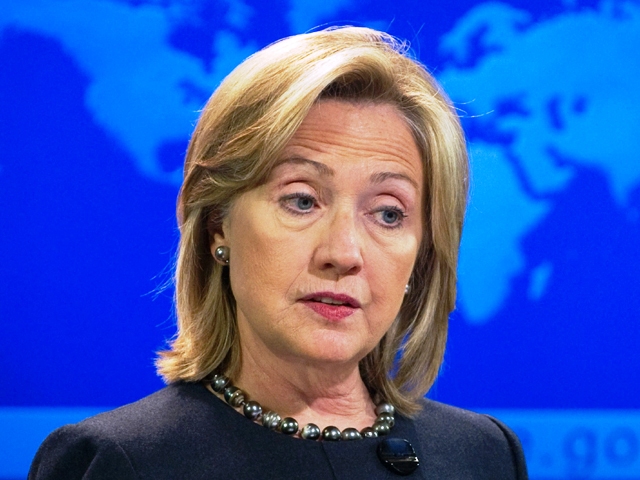 ---
WASHINGTON: After more than three decades at the heart of US public life, White House frontrunner Hillary Clinton has acquired an impressive list of political friends and enemies.

But she also has a famously tight-knit inner circle of veteran allies and aides who will stick with her to the bitter end of the long presidential campaign and maybe even to the Oval Office itself.

Who are they?

Huma Abedin: The 40-year-old vice chair of the Clinton campaign has been by her side since 1996, when she joined the then-first lady's staff as a White House intern. A true confidante, she is seen as almost a second daughter and was deputy chief of staff at the State Department under Clinton between 2009 and 2013.

Clinton tops 50% support from US voters in latest poll

Cheryl Mills: a lawyer by profession, 51-year-old Mills has been fighting in the legal and political trenches alongside Clinton since she was deputy White House counsel in President Bill Clinton's scandal-prone era. She too transitioned to the State Department and remains close to Clinton.

John Podesta: Campaign chairman Podesta, 67, was Bill Clinton's chief of staff and a senior advisor to President Barack Obama before signing on as Hillary Clinton's campaign chairman. His private email account was hacked but the messages published by WikiLeaks seem only to have confirmed his reputation as a consummate political operator.

Neera Tanden. The Center for American Progress think tank serves as a policy shop and waiting room for Democratic administrations, so its 46-year-old head Tanden is well-placed for her role headhunting talent for Clinton's future White House as part of her official transition team.

Jake Sullivan: When Clinton's official email from her time as secretary of state was released following a freedom of information request, 39-year-old Sullivan's name was at the heart of all the major internal debates. He took part in a secret diplomatic back channel to Iran while still working for Vice President Joe Biden. He's now Clinton's foreign policy brain and a hot tip to become her National Security Adviser.

Robby Mook: At 36, Mook is young to be Clinton's campaign manager, but he was even younger when he lead her primary campaign in three states in 2008. That run ended in defeat, but Mook's mastery of management and the political machine has seen him move into a key behind-the-scenes role.

Jennifer Palmieri: While she is another veteran of Clinton's husband's White House, 49-year-old Palmieri's career really began to take off under President Barack Obama, whom she served as director of communications until last year, when she stepped down to help in the race to succeed him.

Clinton says Trump would be Putin's 'puppet'

Brian Fallon: Clinton's young spokesman has already worked in the same role for leading Democrats Senator Chuck Schumer and former attorney general Eric Holder.

A "transition team" smooths the hand-over between an outgoing administration and the new one, hiring and vetting new senior staff outside the White House while shadowing the lame duck president's team in their final weeks.

Some transition officials will find themselves in the new White House, others will return to their own careers or retirement once the newly elected chief executive is installed.

Ken Salazar: Clinton's transition team chairman Salazar, 61, is a veteran of the halls of power: a former senator and interior secretary under Obama.

Salazar has four co-chairs, former national security adviser Tom Donilon -- tipped by some for a top role in the new administration -- and former Michigan governor Jennifer Granholm. Tanden is on the team, as is Clinton's 2008 campaign manager Maggie Williams.