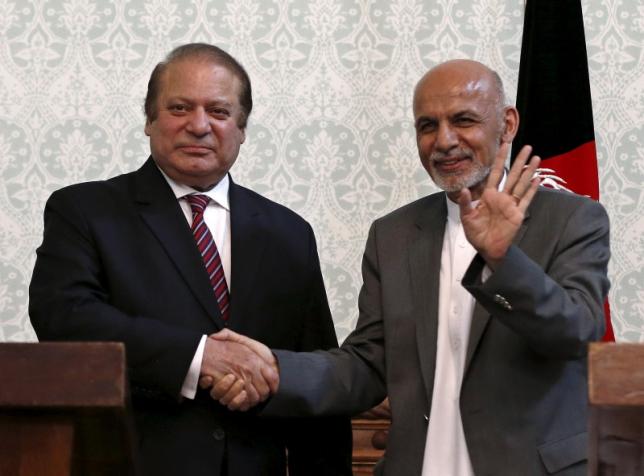 ---
ISLAMABAD: Afghanistan President Ashraf Ghani has stressed the need for regional cooperation to fight terrorism after a group of armed militants massacred nearly 61 security personnel and injured over 100 others in a police training centre near Quetta on Monday night.

As security forces cleared the New Sariab Police Training Centre, Balochistan Frontier Corps (FC) chief Maj-Gen Sher Afgan said the attackers were "receiving instructions" from handlers in Afghanistan. Afgan blamed the banned sectarian "Lashkar-e-Jhangvi al-Alami" for the carnage. A splinter group of the Tehreek-e-Taliban Pakistan and Daesh also claimed responsibility. Interior Minister Chaudhry Nisar Ali Khan also suggested the attacks in Pakistan are being planned on the Afghan side of the border.

Condemning the terrorist attack, President Ghani said terrorism is a shared threat to the stability of the region and the world. Once again, as a result of a horrific terrorist attack a number of families are mourning the loss of their loved ones, he said.

Quetta college carnage: It's nothing else but tit for tat

The Afghan president once again urged joint endeavours on national and regional levels to prevent terrorist activities and said "terrorism neither recognises any religion, law, race and nation, nor does it respect them".

"Therefore, all should join forces and resort to fight against them on the basis of a single vision and clear strategy without maintaining any distinction between the good and the bad terrorists," Ghani said in a statement posted online.

Afghan leaders offer condolence

The president offered his deep sympathies to the families of the victims and prayed for the quick and complete recovery of those injured in the attack.

Afghan Chief Executive Dr Abdullah Abdullah also offered sympathies and condolences to families and friends of those killed in the Quetta attack and said "Afghans stand with the people of Pakistan". "State sponsored terrorism, use of proxy forces and differentiation between terrorists will always lead to destruction. Say no to terror," the Afghan leader said on Twitter.

Afghan ambassador in Islamabad, Omar Zakhilwal angrily reacted to statements by Pakistan's leadership who referred to the activities of Pakistani militants in Afghanistan. Officials had earlier said that Pakistani militants who fled to Afghanistan as the result of the ongoing military Operation Zarb-e-Azb now operate from their bases in Afghanistan.

Quetta atrocity planned across border, says Nisar

Zakhilwal said such "irresponsible" remarks by Pakistani leaders could further spoil the already tense relationship between the two neighbouring countries. "Pakistani statements point fingers at Afghanistan. These statements are irresponsible if they blame Afghan officials for attacks in Pakistan," the Afghan envoy told Radio Azadi. He, however, did not rule out the hands of those terrorists in the attacks who had crossed into Afghanistan from Pakistan.
COMMENTS (3)
Comments are moderated and generally will be posted if they are on-topic and not abusive.
For more information, please see our Comments FAQ