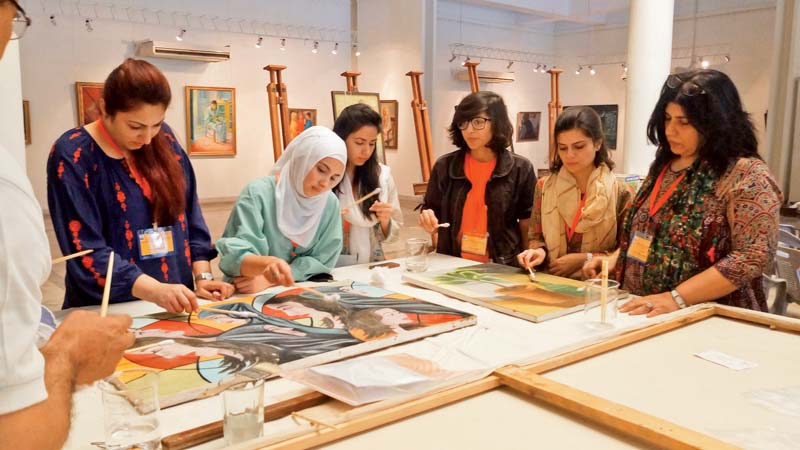 ---
LAHORE: Pakistan has no expertise for preservation and conservation of old paintings and other art forms, said Alhmara Arts Council Deputy Director Programme Zulfiqar Ali Zulfi.

He was speaking on the sidelines of 'Capacity Building and Knowledge Transfer on Preventive Preservation and Basic Conservation of Art in Pakistan' project currently being conducted at Alhamra Cultural Complex.

"At present, no educational institutions or private organisations offer technical education in the field and given the situation, we are desperately in need for at least basic level training," he said.

"Institutions only focus on teaching different forms of painting but art conservation is not taught as a subject," he added. To fill this vacuum, the Arts Council requested Denmark government's Centre for Culture and Development (CKU) to help them preserve some of the old paintings by art maestros of Pakistan.

"Given the extensive and continuous nature of this process, CKU decided to organise a workshop instead so that they could also continue the work afterwards," Zulfi said.

Renowned professional art conservator Martin Benrsted said there was absolutely no tradition for art preservation in Pakistan.

"It's a rather new country and those kinds of techniques usually belong to states with museums working for over hundreds of years. Therefore, all relevant conservation processes have been developed there," he pointed out. "There hasn't been anyone in Pakistan who knows much about the conservation processes or contributing factors such as light and humidity that can ruin the art work," he added.

The workshop was organised to help museum staff and art students adapt techniques and understand factors that involve conservation.

Martin said his experience working with Pakistani artists was wonderful. He hoped some of the students would go abroad to get a proper education in the subject. "You should go not for your own sake but actually for Pakistan's sake because you will never be accepted as a conservator unless you are qualified," he said.

The workshop's project manager, Amna Ali, said the project consisted of three workshops, each lasting five days. The first workshop that began on October 17 selected teachers, students and curators from Lahore to be taught to restore oil paintings and damaged paintings using various techniques, she added.

"The second workshop scheduled to be held on October 23 is identical to the first one but it will be conducted for participants from outside of Lahore. Students and faculty members from University of Balochistan, University of Peshawar, University of Sindh, Indus Valley School of Art, Agha Khan Institute, University of Gujrat, are expected to attend the workshop," she said.

Individuals with outstanding performance would be selected for an advanced training during the third and final workshops scheduled to be held on October 30, she informed.

Published in The Express Tribune, October 21st, 2016.
COMMENTS (1)
Comments are moderated and generally will be posted if they are on-topic and not abusive.
For more information, please see our Comments FAQ