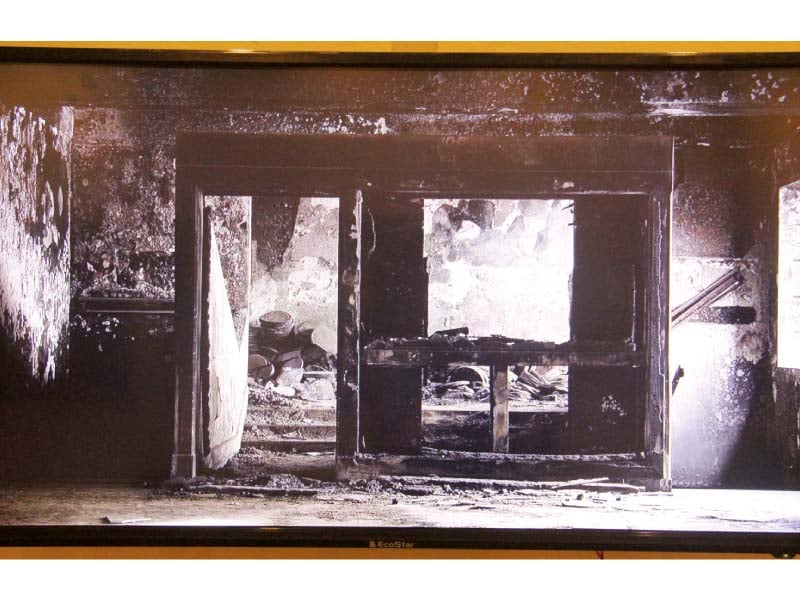 ---
KARACHI: Maulay nu maula na maray tey maula nahi marda.

This dialogue along with the image of actor Sultan Rahi holding a ghandasa [staff] in his Maula Jatt avatar has become one of the recurring images of the country's pop culture.

Despite the popularity of the figure, the bitter truth remains that most of the people are now likely to encounter such iconic figures in galleries than cinema halls.

Lamenting the sudden disappearance of Lollywood, Matteela Films organised an art exhibition, titled 'Art Sab Ka? Pakistani Cinema Reflected', featuring the works of various artists in a bid to reinstate Pakistani cinema in popular imagination.

Artist Ahmed Ali Manganhar's four works capture the attention of viewers. He depicts frozen moments between two frames of a motion picture, remarked filmmaker Meenu Gaur, whose own work features in the exhibition too.

Due to the change in cinema technologies, we are now able to view films in our personal space. This allows viewers to get attached to a particular actor or scene and keep watching it again and again, she remarked.

Manganhar's works perhaps stem from the same logic allowing him to preserve his favourite scenes on canvas and reimaging it through art.




Speaking about the relevance of the exhibition to Karachi, the filmmaker pointed out that the new cinema industry is emerging in Karachi and it has no connection to the ancestral industry in Lahore. "The exhibition seeks to revive the spirit of Lollywood so that it is given the respect it needs."

Artist Bani Abidi's video installation, From the 6 Channel Video Installation 'Funland', brings the viewers' attention towards the state of Nishat Cinema in Karachi, which was burnt down by a mob protesting a controversial YouTube video in 2012.  Meanwhile, Iftikhar Dadi using Type C digital prints on diasec mount  presents three different views of women in Lollywood including 'Lust', 'Energy' and 'Tranquility'.

Two video installations by Meenu and filmmaker Farjad Nabi highlight the plight of Lollywood actors. Manifesto for the Dead documents the life of Sajjad Charlie, who dresses as a clown to raise his voice against the destitute state of Lollywood actors.

On the other hand, The Ghost Will Leave If You Ask Nicely depicts a haunting encountered by a figure dressed as Sultan Rahi. Explaining the idea behind the video, Meenu said that the idea is to depict Lollywood as a ghost which can't rest till it is given its due respect. "There is a ghost and it is haunting us," she explained.

Lollywood has lost its past glory and continues to be sidelined by the new emerging industries. Moreover, there is a certain shame to be associated with Lollywood now, remarked Meenu.

Artists Rashid Rana and Muhammad Ali Talpur also incorporate images from Bollywood in their works. Speaking about the blend, the exhibition's curator, Adnan Madani, said that images from the Indian film industry play an important role in our society. The two industries cannot be easily demarcated because of the similarity in cultures of both countries, he added.

Regarding the combination of art and cinema, Madani says in the press statement, "Our aim is to start to think of these two traditions together and in an evolving project, placing them as part of a continuum of artistic and critical exploration that mirror's Pakistan's attempts to imagine and reimagine itself."

The show continues till Sunday (today) at Fomma DHA Art Centre in Zamzama.

It is a presentation of I am Karachi Film Festival which will be held from February 23 to February 26 next year.

Published in The Express Tribune, October 16th, 2016.
COMMENTS
Comments are moderated and generally will be posted if they are on-topic and not abusive.
For more information, please see our Comments FAQ