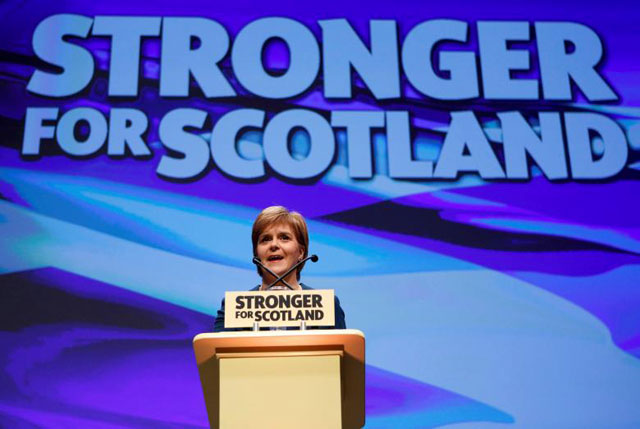 ---
Scotland will set up a trade office in Berlin, boosting its trade departments in readiness for all possibilities, including Scottish independence, after Britain leaves the EU, First Minister Nicola Sturgeon will say on Saturday.

The Scottish National Party leader has raised the nation's profile since June's European Union referendum in Britain, seizing on a new openness towards Scotland in Europe since most of its population voted to remain in the bloc.

Brexit battle reaches UK's high court in challenge to PM

Britain as a whole, however, voted to leave, a clash which has reignited talk of a split between Scotland and the rest of the United Kingdom, even though Scots rejected separation just two years ago.

"Creating jobs, expanding the economy and growing tax revenues – these priorities must be at the centre of everything we do," Sturgeon will tell the SNP conference at its close, according to a draft of her speech.

She will add that economic stability is threatened by the prospect of the UK leaving the European single market, taking Scotland with it. Scotland wants to keep as many of the advantages of single market membership as it can, even if Britain leaves, and is looking for a bespoke deal with London to do so.

British ministers have suggested that the UK could leave the EU's single market for goods and services to let them reimpose stronger control over their borders. The comments have driven the pound to its lowest level in three decades.

Sturgeon will say that in order to protect business in Scotland, the devolved government will set up a board of trade, a new trade envoy scheme, expand its Scottish enterprise agency and establish a Scottish trade hub in Berlin.

Former British PM David Cameron reveals his new job

Business minister Keith Brown has said that he has seen a more neutral stance from businesses who were opposed to independence in the past but are supportive of Scotland's desire to stay in the single market.

"After the (political) mess that has followed the (Brexit) vote, business is desperate for clarity and leadership," Kate Forbes, a Scottish lawmaker at the conference, told Reuters.

She said that businesses are positioning themselves for all options after Brexit.

Sturgeon announced on Thursday that the Scottish government would publish a blueprint next week for a possible new independence vote. However, she has not said if or when the bill would be presented formally to the Edinburgh parliament.

Support for independence has barely moved since Scots rejected it by a 10 point margin two years ago. But the conference supported a motion on Friday which said Scotland "should prepare for a second independence referendum and seek to remain in Europe as an independent country."
COMMENTS
Comments are moderated and generally will be posted if they are on-topic and not abusive.
For more information, please see our Comments FAQ