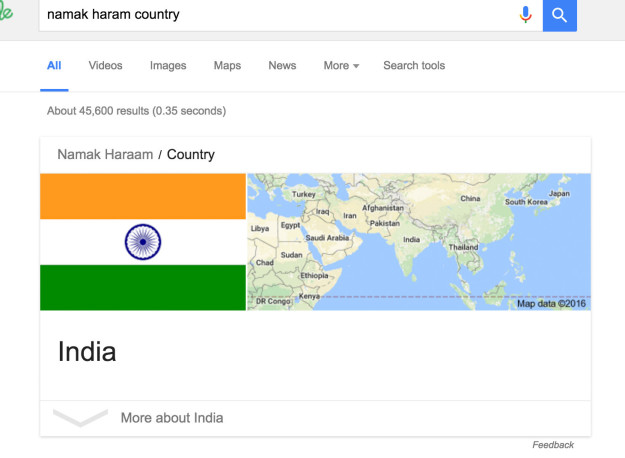 ---
Is there anything Google can't do? From helping people prepare for exams to cracking last-minute essays, the tech giant is a godsend for almost everyone. Now, Google has passed a verdict on what it supposedly sees as the defining characteristic of our eastern neighbour.

Google lists Modi among 'world's most stupid prime ministers'

In a new, rib-tickling development that has taken the Internet by storm, users have discovered that googling 'Namak Haraam country' results in the Indian tricolour being displayed.

We tried it out:




Some users were quick to tweet their response:


Guys go and write Namak haram country on google and see who is Namak haram.#nooffense pic.twitter.com/xmeI6y63if

— Usama Rajput (@UsamaRajput_PAK) September 27, 2016
Searching namak halal country also shows India.

JUST SAYIN https://t.co/QUl9XLjWpb

— anastipu (@teepusahab) September 27, 2016


https://twitter.com/Proud_Khaaki/status/781007760594993152


Its my phone's screenshot 😂 100% true.... No photoshop needed#NamakHaraam #India pic.twitter.com/m8edCemTkD

— محمدعبداللّہ (@MA_Ensari) September 27, 2016
Everyone, just type Namak Haram Country in Google and see the magic. Do share your screenshots with #NamakHaraam #NamakHaramCountry

— محمد سادان درانی ® (@MSDurrani) September 27, 2016
Google biggest search engine defines India as a Namak Haraam Country
As you sow , so shall you reap pic.twitter.com/aIcVSdvCWK

— Saima Farooq (@SaimaFarooq) September 27, 2016


Hillarious -- more so for us Pakistanis -- no offence to our Indian neighbours. But that is not all. In fact, its plausible to think the result would prompt users to look up which country Google deems 'Namak Halaal'.

So we did some experimenting of our own:




Sorry to disappoint! Turns out Google thinks India is both, 'Namak Haraam' and 'Namak Halaal'. Of course, it is puzzling to see why the Internet giant would label any country as such. But there is a reason for this.

Looking up certain movie titles and their country of origin sometimes results in national flags being displayed. For example, say, The Lord of the Rings.




As it is both, Namak Haraam and Namak Halaal, are famous Bollywood classics.


COMMENTS (16)
Comments are moderated and generally will be posted if they are on-topic and not abusive.
For more information, please see our Comments FAQ