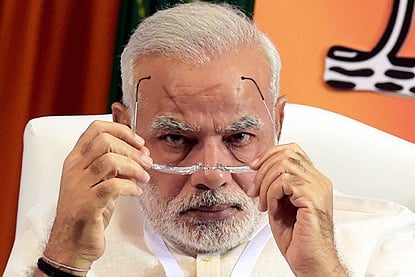 ---
ISLAMABAD: Indian Prime Minister Narendra Modi's reaction post-Uri assault has been full of flip-flops. First, he rattled his sabres — only to back off later. Then, he talked about mounting a global campaign to 'isolate Pakistan diplomatically'. And now he is threatening to undo the only achievement that has withstood periods of tensions and conflict between the two arch foes.

Modi conferred with his senior aides on Monday to reconfigure the Indus Waters Treaty of 1960 — a World Bank-brokered agreement that governs the distribution of water of six rivers between Pakistan and India. "Blood and water cannot flow together," he was quoted by Times of India newspaper as telling his aides.

Indian prime minister reviews Indus Waters Treaty

At the huddle it was decided that India would 'exploit to the maximum' the water of the Indus, the Chenab and the Jhelum by fast-tracking its building of new hydropower plants along the three Pakistani rivers.




Modi's threat to run Pakistani rivers dry shows his utter desperation and naivety. International law experts say it is not possible for either country to just walk out of the Indus Waters Treaty. "There is no provision in the Indus Waters Treaty to scrap the agreement unilaterally. If India does so, it'll violate international law," BBC Urdu cited Ahmer Bilal Soofi as saying.

"There is no precedent where a country has reneged on an international agreement. Such agreements are not between governments but between states — and states are bound to honour them," he added. About India's threat to review the Indus Waters Treaty, Soofi said, "If India scraps the treaty, then it will be considered an aggressive step which could jeopardise regional peace and security."

Soofi believes the UN secretary general could take suo motu notice, if the Indian threat materialises.

Jamaat Ali Shah, the former Indus waters commissioner, agrees with Soofi. "India cannot walk out of the agreement unilaterally, though the two countries can make changes in the agreement with mutual consensus," he told The Express Tribune.

Congress tells Modi to bring own house in order before advising Pakistan

Shah believes Modi's threat is a political gimmick aimed at pressuring Pakistan following the Sept 18 deadly attack on a military base in Uri sector of Indian occupied Kashmir.

He said Pakistan had surrendered 26 million acre feet water of Beas, Sutlaj and Ravi rivers to secure a right over the water of the Indus, Jhelum and Chenab rivers. "The government should take up the Indian threat with the World Bank, which was instrumental in brokering the Indus Waters Treaty," he added.

A former Pakistani prime minister's adviser on water and agriculture resources says India is desperate after losing the case on Kishanganga hydroelectric plant in the International Court of Arbitration. "The court had ruled that India was violating the Indus Waters Treaty by building the Kishanganga plant," Kamal Majeedullah told The Express Tribune.




The Indus Waters Treaty was signed in 1960 in a bid to resolve disputes, but India's ambitious irrigation plans and construction of thousands of upstream dams has continued to annoy Pakistan, which depends on snow-fed Himalayan rivers for everything from drinking water to agriculture.

Modi threatens to 'isolate' Pakistan globally

The World Bank – then called the International Bank for Reconstruction and Development – had brokered the treaty which was signed 56 years ago by Jawaharlal Nehru and Ayub Khan. According to the agreement, India got a right over water of the rivers Beas, Ravi and Sutlej, while the rivers Indus, Chenab and Jhelum came under Pakistan's control.

Majeedullah said India was already stealing water from Pakistan's rivers. "The International Telemetry System should be installed to monitor the flow of water from India," he added. "Pakistan should not allow a revision of the treaty which was brokered by the World Bank."

A senior government official, however, laments that the water issue doesn't figure anywhere on the priority list of Pakistani policymakers. "We had an acting Indus water commissioner who had been working on an ad-hoc basis since 2012," he said. "This is the situation of the body that is assigned to sort out contentious water issues with India."

Published in The Express Tribune, September 27th, 2016.
COMMENTS (37)
Comments are moderated and generally will be posted if they are on-topic and not abusive.
For more information, please see our Comments FAQ