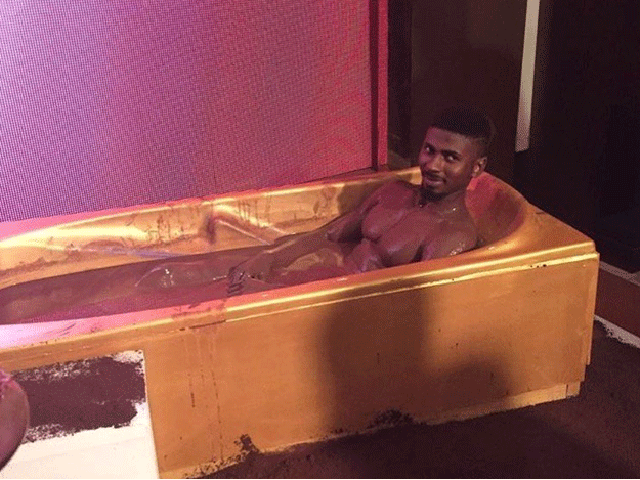 ---
Since time immemorial, chocolate has been intertwined with race - sometimes inadvertently and at others - in bad taste.

The recent Magnum party in Karachi showed one how not to go about it. The event featured surreal art at its extreme. Subjective aesthetics aside, one 'artistic feature' veritably crossed the line for being racially offensive in a kingdom obsessed with skin colour.

Malaysia show apologises for 'black-face' Usher parody

This dark man was used as a prop to entertain other wealthy individuals at the party. Likening a black man to chocolate is akin to reducing an entire community to a colour. Small wonder then that we live in a racist world.

The visual exemplifies the struggle for racial equality and empowerment as the world distorts black identity. It goes on to reveal that even in 2016, the colour of one's skin carries weight.

Uproar over French resort burqini ban

The event's organisers failed to distinguish between surrealism and racism, with the brand ending up exploiting a race in the name of marketing and entertainment. Little wonder the image sparked outrage across social media.


anyone see any bubbles emerging in the chocolate bath? #MagnumParty16

— HawkesBay (Löuche) (@HawkesBay) September 22, 2016
This man was hired to be in a chocolate-filled tub at the Magnum Party in Karachi - hopefully he wasn't chosen because of his skin colour pic.twitter.com/6WwJJl1Qnh

— omar r quraishi (@omar_quraishi) September 22, 2016
Looking at some twisted pictures of the Magnum party. A man in a tub. A rooster on the head. Didn't think ice-cream can get u this high.

— Aaliya Javed (@Aaliyajaved) September 21, 2016
Unilever (profit of Rs7.7 billion in 2015) showed poor taste by hiring a dark-skinned Pakistani for its chocolate tub at the Magnum Party pic.twitter.com/RrOliJ0Igm

— omar r quraishi (@omar_quraishi) September 22, 2016
Magnum party 2017 will feature self-respect dipped in chocolate 🍫

— M. Ali Kapadia (@AliKapadia) September 21, 2016


The idea to use a black man as a prop is said to be the brainchild of a noted event manger. However, the use of black men as props or being typecast on the basis of their colour is by no means unprecedented in the Pakistani fashion industry.




In 2013, designer Amna Aqeel published her Be My Slave fashion shoot in DIVA. The shoot featured a white model being waited on by a dark-skinned child.

We often neglect the underlying stereotypical discourse in our everyday lives. Such recurrent signs and symbols only serve to normalise racial discrimination. The time is ripe for such tropes to go.

Have something to add to the story? Share it in the comments below.