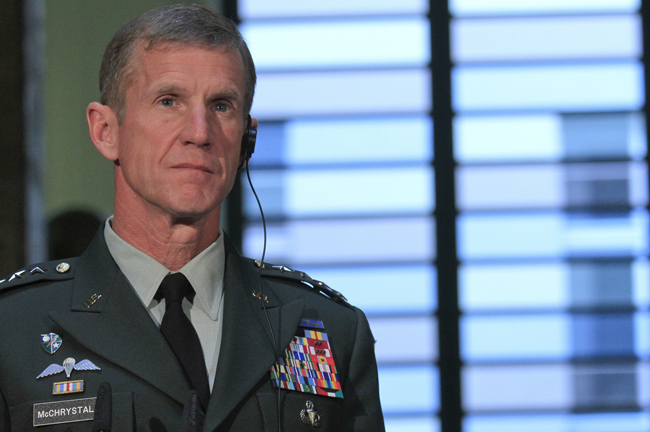 ---
WASHINGTON:
The United States warned Pakistan after the failed Times Square bombing that it must crack down on militants or face severe consequences, The New York Times reported late on  Saturday.
Citing unnamed US and Pakistani officials, the newspaper said US military commander in Afghanistan General Stanley McChrystal met with the Pakistani military commander General Ashfaq Parvez Kayani in Islamabad on Friday. He urged Pakistan to quickly begin a military offensive against the Pakistani Taliban and al Qaeda in North Waziristan.
The meeting came as US investigators grilled Faisal Shahzad, a Pakistani-born US citizen whose large but poorly made bomb failed to detonate in New York's Times Square a week ago. He was arrested on Monday aboard a plane preparing to take off for Dubai.
Shahzad, the 30-year-old son of a retired Pakistani Air Force officer, faces five terrorist charges in the United States.
US media reports said that Shahzad's family knew at least two key Pakistani militants involved in terrorist activities.
Secretary of State Hillary Clinton warned Pakistan, in remarks published late on Friday, that it faced "very severe consequences" if a terror plot like the Times Square bombing were traced to the country, although she also acknowledged Pakistan's increased cooperation against terrorism.
The Times said that the new pressure from Washington was characterized by the Pakistani and US officials as a sharp turnaround from the relatively polite encouragement adopted by the administration of President Barack Obama in recent months. It came amid increasing debate within the administration about how to proceed in the war on terror that included even "a boots-on-the-ground presence" on Pakistani soil, the report said.
Though the bombing in Times Square failed, Shahzad's ability to move back and forth between the United States and Pakistan has heightened fears in the Obama administration that another attempt at a terrorist attack could succeed, the paper said.
"We are saying, Sorry, if there is a successful attack, we will have to act'" within Pakistan, one of the US officials is quoted in the report as saying.
COMMENTS (8)
Comments are moderated and generally will be posted if they are on-topic and not abusive.
For more information, please see our Comments FAQ